Over the last five years housing prices in Portugal dropped by more than 10%. In September 2008 houses and aparments were offered for €1,145 per sq.m, in spring 2010 this figure reached its maximum of €1,178, while throughout this year is was around €1,000. During this five-year period the most affordable housing, mainstream and luxury real estate fell in price more or less equally.
With all the evidence that the real estate in Portugal is underestimated, experts differ in their forecasts on further development of the market.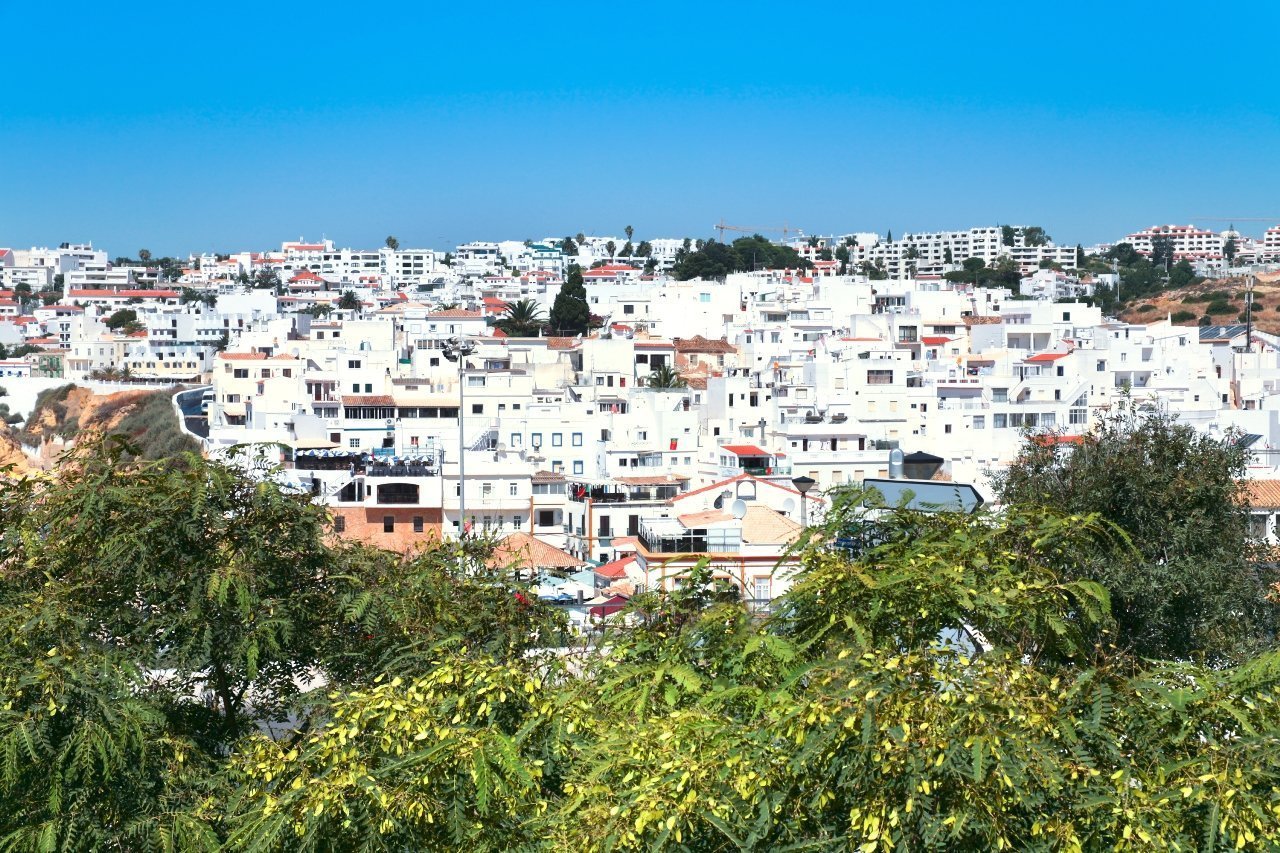 Faro cityscape
Some realtors announce a significant increase in sales to foreigners wishing to obtain a "golden visa" to Portugal. Residence permit has been granted to more than 300 foreigners who've bought property in the amount of €200 million. Recall that to obtain a residence permit in Portugal one has to invest at least € 500,000 in real estate.
Other market experts are not so optimistic. They remind of a large number of second homes whose owners are no longer able to make mortgage and tax payments, and therefore are trying to sell their homes at bargain prices.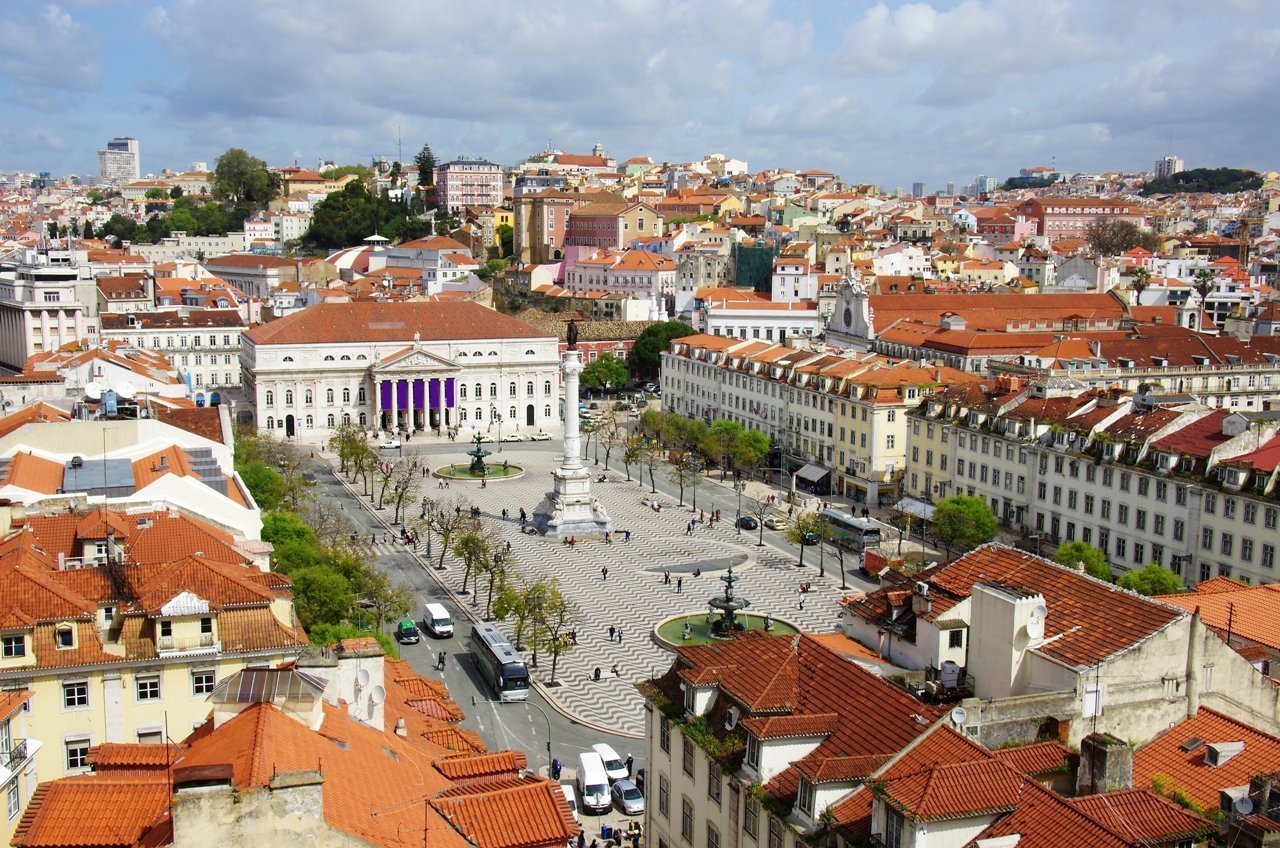 Rossio square in Lisbon
Property prices in regions of Portugal
According to NUTS II, Portugal is divided into five major economic and statistical regions - North, Centre, Lisbon, Alentejo and Algarve. The most expensive residential real estate in Portugal is concentrated in the Lisbon region (€1,315 per sq.m in its northern part and €1,045 in the southern), on the island of Madeira (€1,245), as well as in the Algarve, in the very south of the country (€1,240).
Algarve is, in fact, a very provincial place, consisting of a small resort villages. In the largest city in the region, Faro, there are only 65 thousand people. What does attract real estate buyers in the Algarve and Faro?
This is a resort area with many opportunities for a good leisure: there are beaches with cafes, restaurants, night clubs etc. Algarve is one of the warmest places not only in Portugal, but also throughout Europe. It's comparable with climate of Sicily, Crete and Cyprus. Owners of real estate in the south of Portugal, who are bored with holidays and eternal summer, may change the situation and go up to Lisbon or Seville which are located 150 km to the north and east respectively.
The average housing price in Algarve is €1,240 per sq.m. At the same time, a square meter in 25% cheapest houses and apartments goes for €873, in 25% most expensive - for €1,811.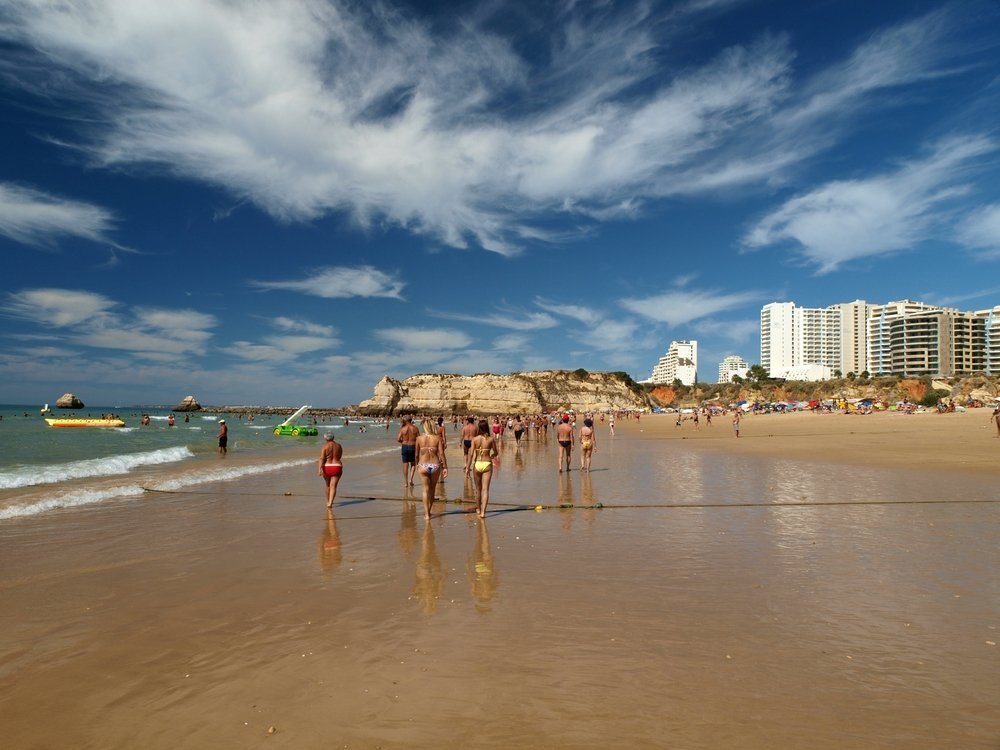 Beach in Algarve
The Lisbon region is attractive doubly, because it's not only the capital, but also a seaside resort area. Real estate in the suburbs of Lisbon, Cascais and Estoril is popular among the Portuguese and residents of other countries who buy second homes there. Price per square meter of real estate in the Greater Lisbon is €1,315. Housing in the urban area of Lisbon costs on average €1,224 per sq.m.
The cheapest properties in Portugal (up to €900 per sq.m), are located in the Northern and Central regions, slightly more expensive housing can be found in Alentejo.
Houses in Portugal are cheaper than apartments
Houses in Portugal are about 10% cheaper than apartments and cost just €948 per square meter. The most expensive offers are on the coast from the capital region to the border with Spain. By the way, this area has the best climate: on the coast to the north from Lisbon, as well as in "internal" subregions in the North-East of the country, winter is not so warm. Buy the most expensive and luxury villas in Portugal can be found around Lisbon and in Algarve.
Where to buy an apartment in Portugal?
How much are apartments in Lisbon, Porto and other major cities in Portugal? Surprisingly, but the most expensive city apartments are in city of Coimbra (€1,262 per sq.m).
One square meter of apartments in Lisbon can be purchased for €1,217. Cheap apartments in Lisbon go for €783, luxury apartments go for €1,955 per sq.m.
Apartments in the south of the country, in the cities of Évora, Beja, Portimao, Faro are more expensive than on average in Portugal. The cheapest apartments are located in northeastern cities such as Guimarães, Viseu and Guarda.
Surprisingly, in Porto, the second most populous city in the country, the price of residential property is lower than the national average. Housing in Porto costs €937 per sq.m and it's by €190 less than in February 2010.
Text: Cyril Ozerov, ee24.com.