The Russians and the Ukrainians are moving to Europe. Some of them manage to get a residence permit, while others are looking for EU nationality. In a year, the EU passports were received by at least 8,000 Russians. The Ukrainians almost don't lag, but will they become the first?
In 2012, the EU issued 818,000 passports to foreigners (statistics published in November 2014). To graphically describe these 818,000, we can say that the EU population has increased by another Stockholm or Marseille. Most of these new "Stockholmers" or "Marseilles" – are not the Russians, Ukrainians or other Europeans, as you might think, but these are the Africans and Asians. So, 59,300 of desired documents were obtained by the Moroccans and 33,900 by the Indians. But we are not talking about them.
The Russians and the Ukrainians were quite modest in their European aspirations. In 2012 EU citizenship was obtained by more than 8,000 former residents of Russia and more than 6,500 former residents of Ukraine (approximate figures as complete statistics are not available).
The Russians got citizenship in Finland (2,500), Germany (4,230), Bulgaria (400), Poland (240), Czech Republic (180), Cyprus (180) and Malta (70), as well as in the Baltic states (excluding "non-citizens" – about 350 passports in Lithuania, Latvia and Estonia).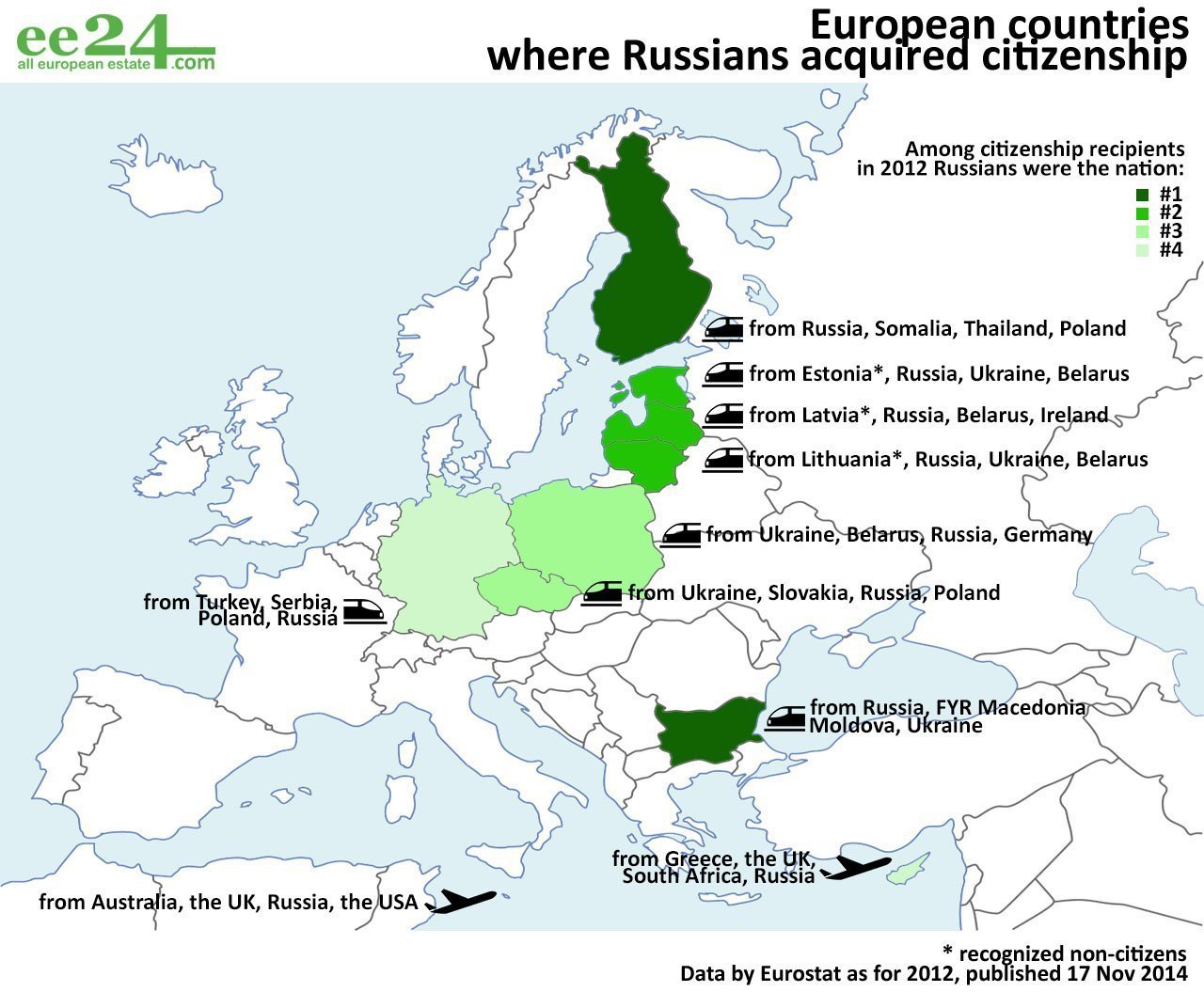 View full size
Ukrainian preferences are clear – in the dashing 90's they moved to neighboring countries to work and in the beginning of 2000's they got residence permits and learned languages, and finally obtained the desired passport. What kind of country was the most generous in 2012? Was it Poland? The Czech Republic? Or maybe Slovakia? Oh no, this was Portugal, which citizenship was obtained by approx. 3,300 Ukrainians. Another 1,200 people settled in Poland and 520 ones in the Czech Republic.
Text: Kyril Ozerov, ee24.com