Where do the Russians want to move? There are many ratings – based on the number of tourists, the number of residence permits or passports obtained; real estate acquisitions and so on. They are neither very objective nor incomplete. The ee24.com portal presents own version that may be considered more accurate – as this preferences rating of Russians was prepared by our SEO-specialists based on online requests.
We made a survey to get to know in what countries Russian people want to move. Our specialists have gathered and analyzed Yandex statistics data for 2013. Were considered only requests related to the acquisition of different types of real estate (for example "to buy a house in Bulgaria" but not "tickets in Italy" and nor "rent a cottage in Finland"). All acquisition real estate requests in specific countries when users do not indicate the city were summed with acquisition real estate requests in the top five cities or regions of the country. That is how we defined Top 20 European countries where Russians want to purchase real estate. In this review we present the first ten leaders.
1. Bulgaria - the leader of the Russian demand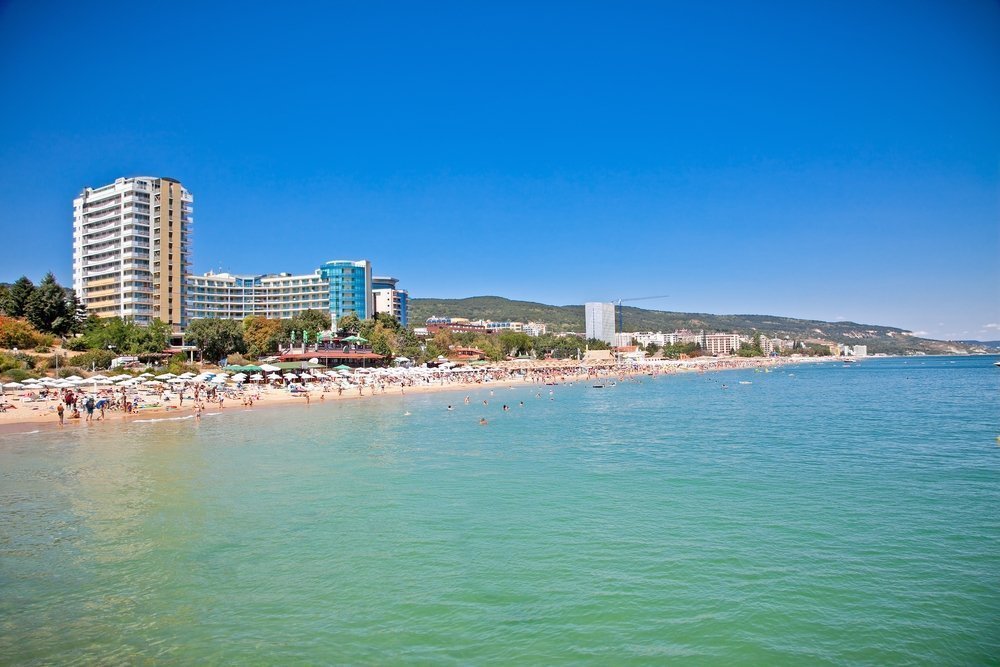 It seems that most of all Russians dream to acquire real estate in Bulgaria. And they rightly do so as square meter here costs less than €500. In 2013 Russians searched for real estate in Bulgaria for nearly half a million times. Compared with 2012 housing in this country in Yandex was asked by 19.1% more often. Among ten most popular cities Varna catches more the interest, its share in search queries is 28.6% (among top five most popular cities and regions). About 25.5% were searching for real estate for acquisition in Sunny Beach. In addition, residents of Russia asked Yandex about housing in Bourgas, Saint Vlas, Pomorie and Bansko ski resort.
2. Spain - Russian dream of never ending siesta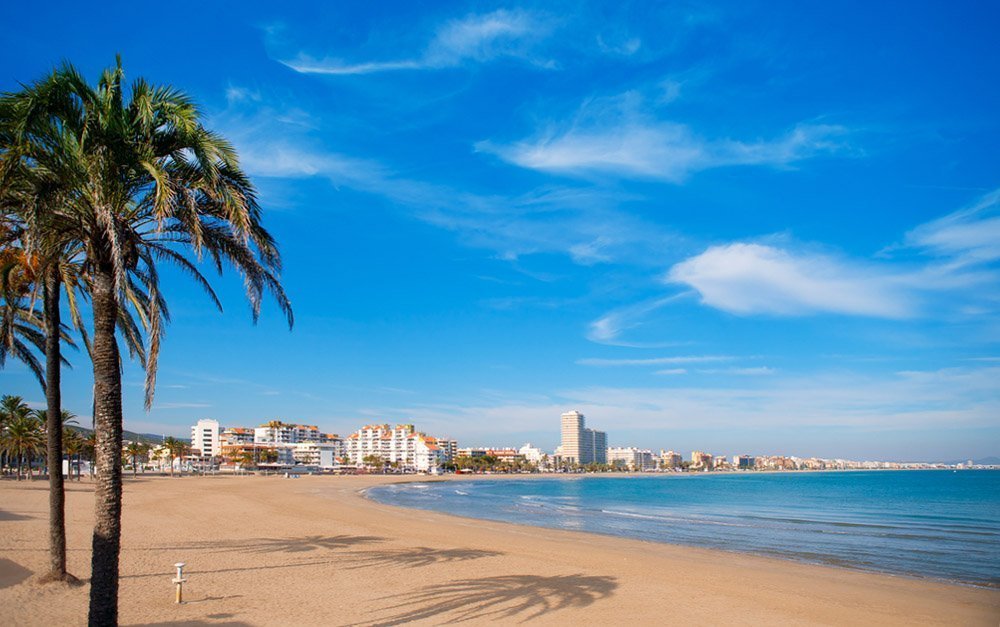 Around 359,000 of Russian Yandex's users were searching for real estate in Spain last year, that is 28.3% more than 2 years before. This country somehow attracts Russians like a magnet. But where to acquire realty in Spain? Russians have a concrete preferences, hoping to buy an apartment in Torrevieja (28.5%) or at the Costa Brava (21.3%). Housing in Alicante and the Costa del Sol remains less popular. Real estate in Salou, Madrid, Barcelona, Costa Dorada and Majorca is also Among the most frequent requests.
3. Montenegro potency is in the mountains, not in the seaside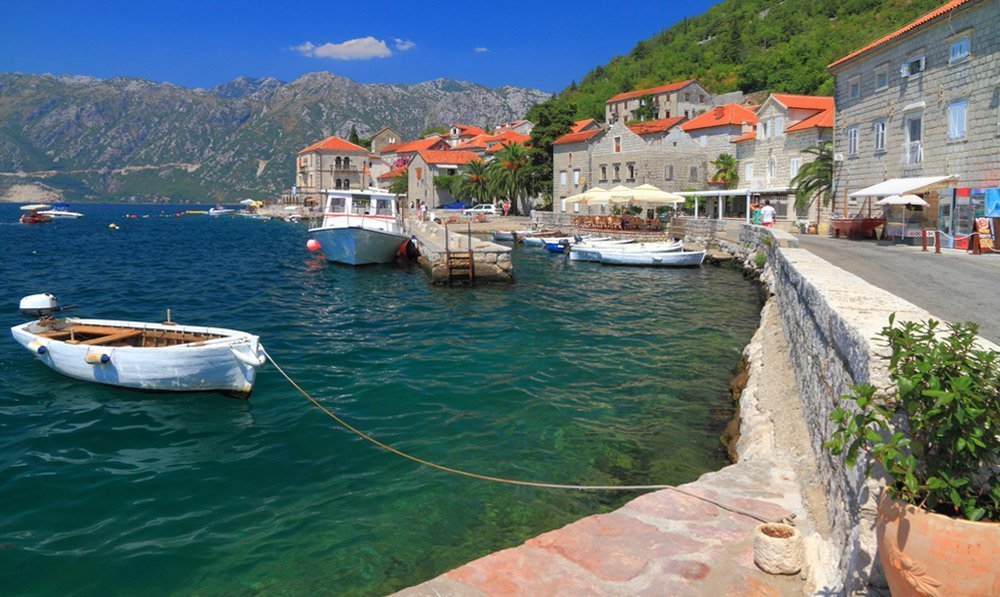 Montenegro became the third most popular country in Europe where the Russians were looking for real estate. Country of dreams and country of mystery that is not a member of the European Union but it allows the Russians to spent holidays at the sea without a visa. Montenegro has attracted the interest of 176,000 of users. This is 18.6% more than in 2012. Not many users are asking for Podgorica city that is a capital of Montenegro, located away from the seaside. In priority are resorts: Budva (33.4% of the five cities, leading in demand), followed with a minimum breakaway by Bar (31.3%). Real Estate in Petrovac and Becici that are cities of Budva Riviera - is also attractive for the Russians.
4. Stable Germany means stable interest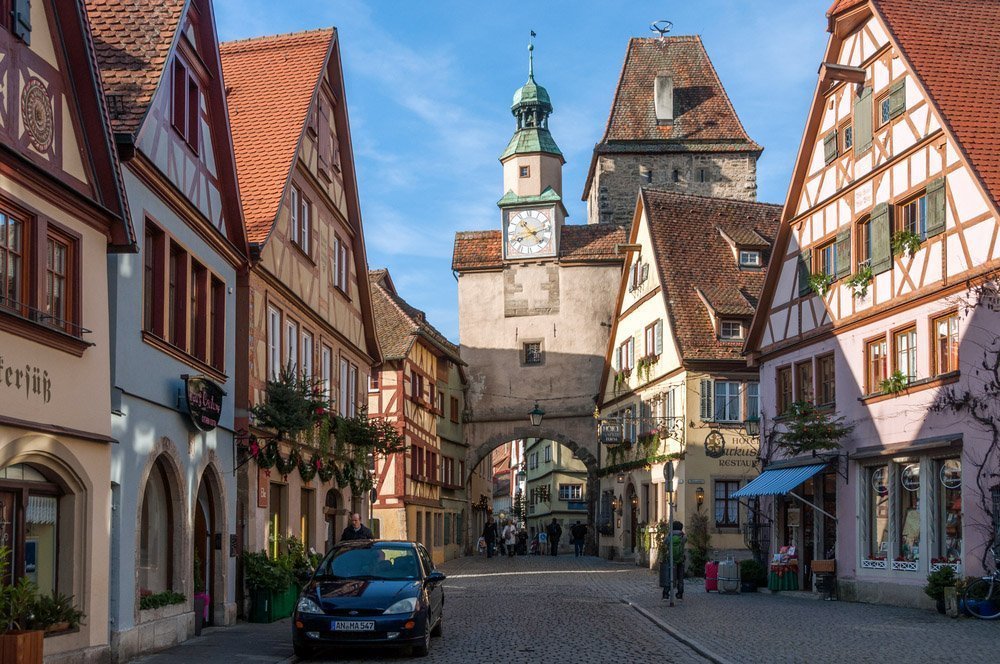 Requests about the different types of real estate in Germany were processed by Yandex almost 143,000 times in last year. Interest for the country remains stable and slightly growing: in 2012 the number of requests has increased by 9.8%. In Germany, our compatriots chose Berlin (34.9%). It is followed by state of Bavaria (32.8%) and its capital Munich - the city with the highest real estate prices in Germany. Baden-Baden and Dusseldorf were requested less often. But Hamburg with its two millions of population is the largest city of the European Union but not a capital city - is not among the hits of the top 5 preferences of Russians in Germany, as it was requested only 1993 times.
5. Turkey is cheap and next door to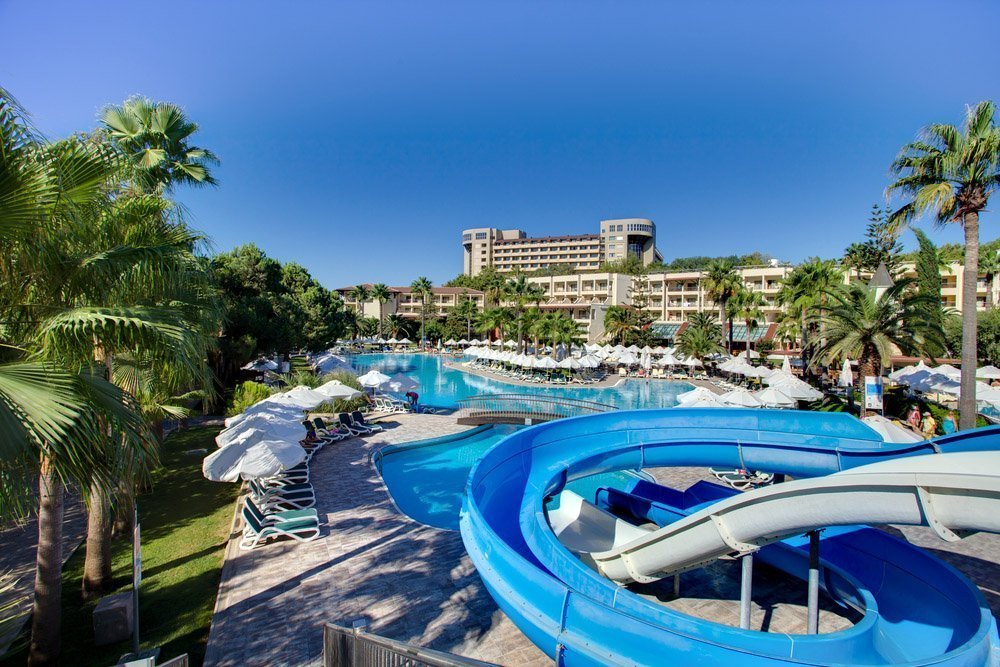 142,000 times Russians desired to acquire property in Turkey, or at least learn more about it. From 2012 to 2013 the number of requests increased by approximately 13.9%. Unconditional leadership among the five popular cities and territories belongs to Antalya with 38.7% of the requests. Of course we exclude, all the requests about the real estate related to the rental, tourism and etc. in order to present a more complete picture. Second and third places are divided between Istanbul and Alanya, that have about 21% of requests. Villas and apartments in Alanya, Kemer and Mersin are among popular requests. Russians are not very interested in acquisition of real estate in the capital city Ankara.
6. Long love affair with Italy continues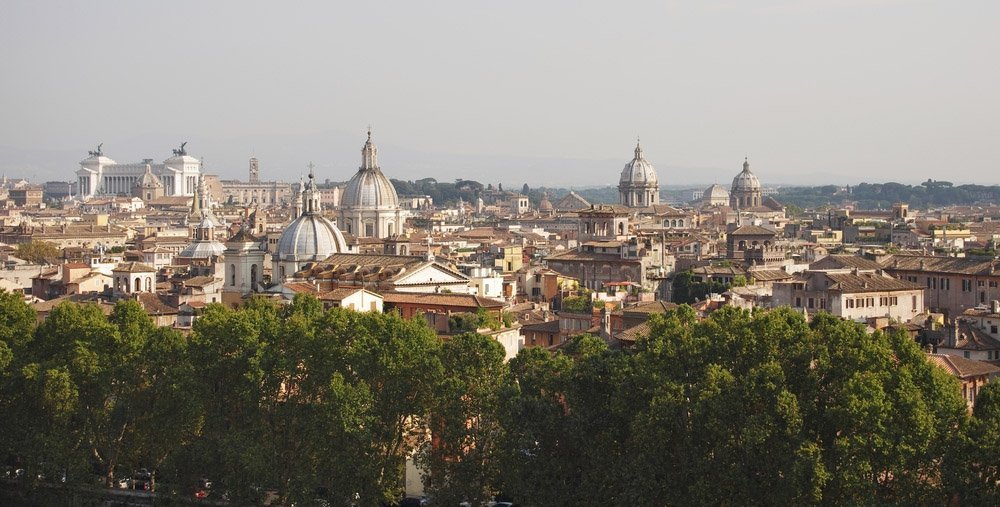 The sixth place in the ranking of interests legitimately belongs to Italy. In 2013 property in Italy was requested 131,000 times, which is for 13.7% more than 2 years ago. Today the leadership belongs to Rome, that left Tuscany behind and attracted the interest of 36.6% of users. Around 27.3% of users who actively seek out villas and apartments in Italy want to find themselves under the sun of Tuscany. There were many requests about how to buy real estate in Milan, Sardinia, Calabria, Sicily and at least in Liguria, on Lake Como and in Scalea. Russians still avoid to buy apartments in Turin and Naples.
7. Czech Republic still is in Top 10 due to the interest for Prague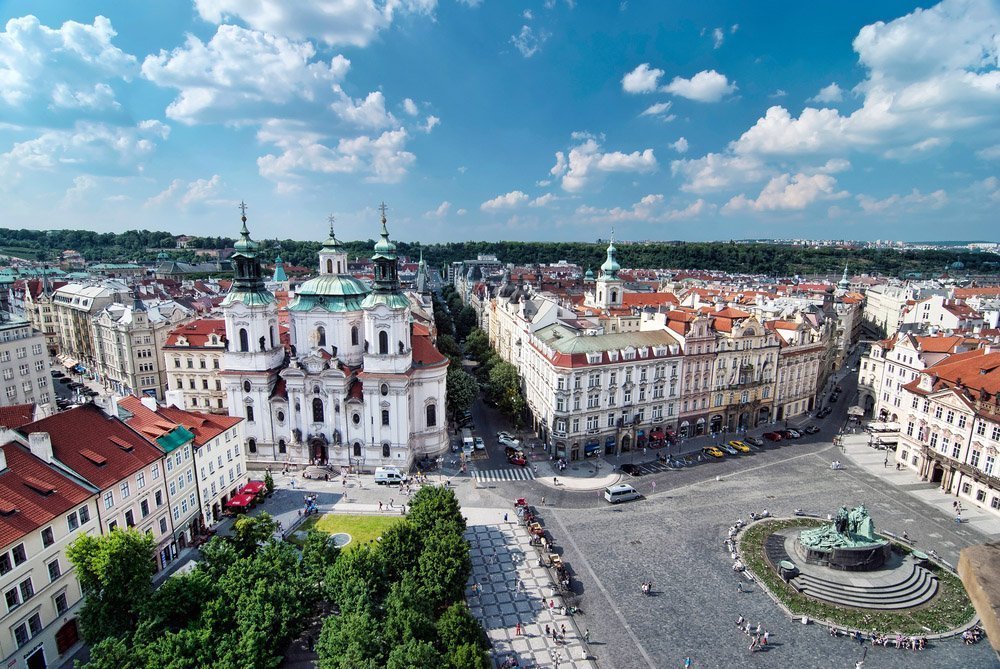 Czech Republic is in the 7th place as its real estate market was requested by users from Russia 110,000 thousand times. However, in 2013 the country lost few points in position, becoming 19% less interesting for Russian buyers and rolled down in the top 10, from the 4th to the current 7th place. Capital city dominates with a huge margin: 3 of 4 users who requested a real estate in the cities and regions of the Czech Republic want to buy an apartment in Prague. But Russians also remember about Karlovy Vary (10.6%), and the resort town of Teplice (7.8%).
8. Greece – prices are down but popularity remains stable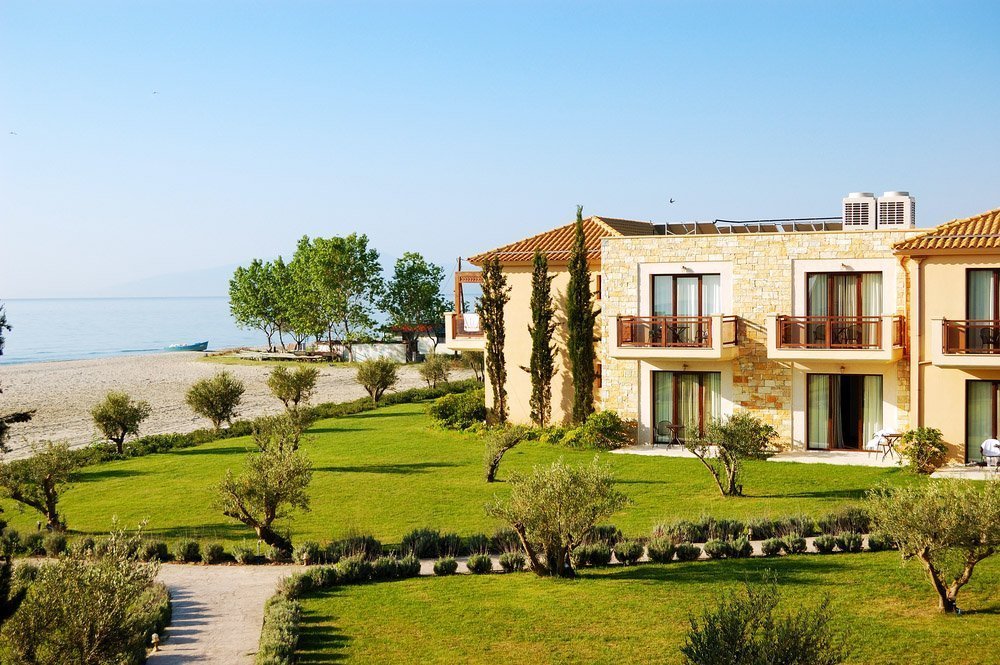 Greece was requested 90,000 times, that is 25% more than in 2012. According to requests the Russians want to live on the islands. Real estate in Crete, for example, was looked for by 42.9% of users, Rhodes - 22.3%. Property in Athens and at the Halkidiki peninsula is quite popular.
9. Cyprus – everlasting summer that doesn't lose its ground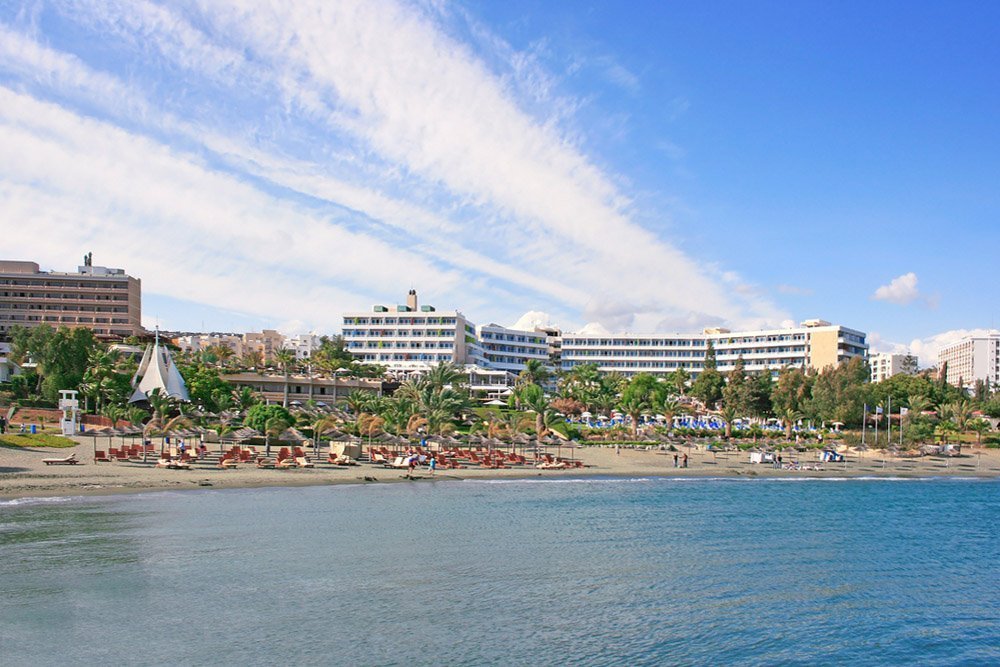 Cyprus, Greece's neighbor in the Mediterranean sea, received 87,000 real estate requests. This is 26% more than in 2012. Last year was even more "pathetic": Russian's interest has shifted from Limassol (30.8%) to Paphos (32.7%). Approximately 13% of users want to acquire real estate in Protaras and Ayia Napa.
10. France – Paris, sea and vacuum all around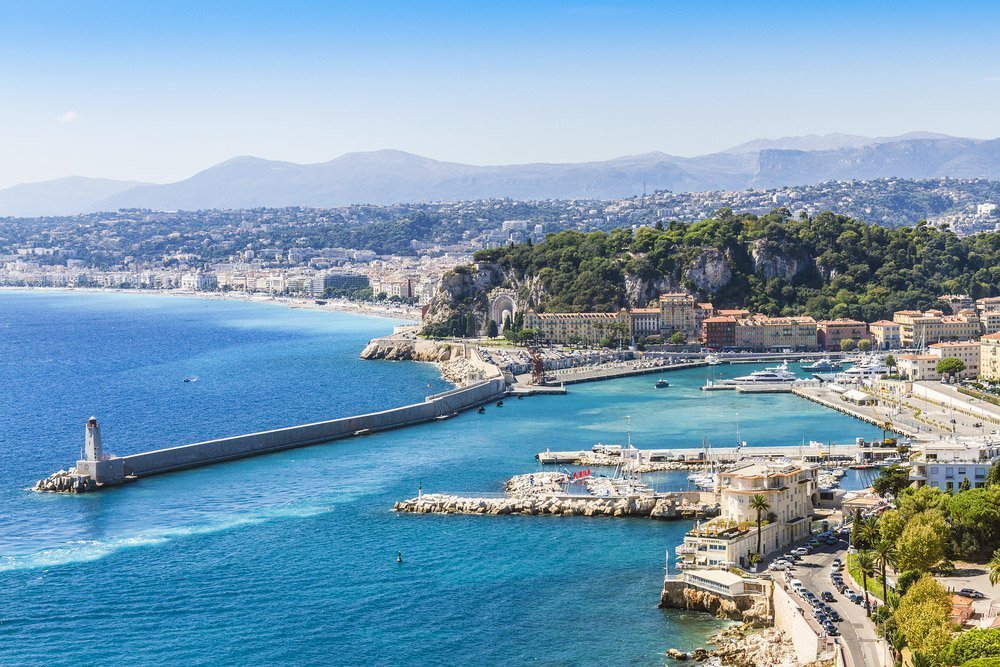 ​
France closes Top 10 of the most popular countries. Real estate in France was requested 75,000 times and interest increased by 20.2% per annum. In terms of housing this country for Russians still is limited by Paris (a little less than half of searches), Provence (22.7%) and Nice (14.7%). From cold Russia one also desire to move to the Cote d'Azur and in cities such as Marseille and Lyon.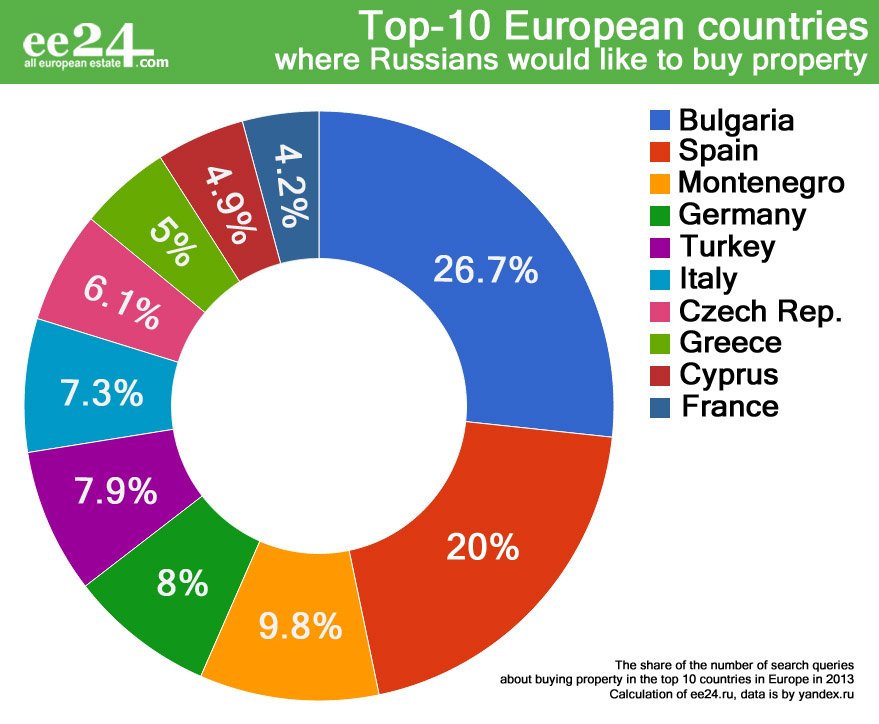 | | | | |
| --- | --- | --- | --- |
| | Country | Requests in 2013, k. | Request dynamics in comparison with 2012 |
| 1 | Bulgaria | 478 | +19.1% |
| 2 | Spain | 359 | +28.3% |
| 3 | Montenegro | 176 | +18.6% |
| 4 | Germany | 143 | +9.8% |
| 5 | Turkey | 142 | +13.9% |
| 6 | Italy | 131 | +13.7% |
| 7 | Czech Republic | 110 | -19% |
| 8 | Greece | 90 | +25% |
| 9 | Cyprus | 87 | +26% |
| 10 | France | 75 | +20.2% |
| 11 | Latvia | 73 | +52% |
| 12 | England | 57 | -1.7% |
| 13 | Finland | 55 | -3.5% |
| 14 | Estonia | 40 | +29% |
| 15 | Croatia | 31 | -11.4% |
| 16 | Lithuania | 26 | +52.9% |
| 17 | Austria | 26 | +10.6% |
| 18 | Portugal | 24 | +33.3% |
| 19 | Serbia | 22 | +69.2% |
| 20 | Poland | 11 | +32.4% |
Research to be continued next week on ee24.com: "Europe outlook: what and where are Russians searching for? Second part".
Text: Alexander Fetyukov, ee24.com