If speaking of height, Switzerland may boast only of alpine peaks: skyscrapers almost absent in this country and dominated low-rise or "flat" building does not stimulate decrease in property prices. Pharmaceutical Roche giant begins to change the situation, builds up skyscrapers and announces plans to build another, higher one. They will be seen even from France and Germany – which state borders are within a couple of kilometers.
Cascade of records
Skyscraper is a building of 150 meters height (152.4 meters equal to 500 feet, beautiful starting mark). The tallest building in Switzerland may not be proudly titled as skyscraper: This is 126-meter high Prime Tower office built in 2011 in Zurich. Country's highest are only non-residential buildings (television towers, dams), and, of course, mountains.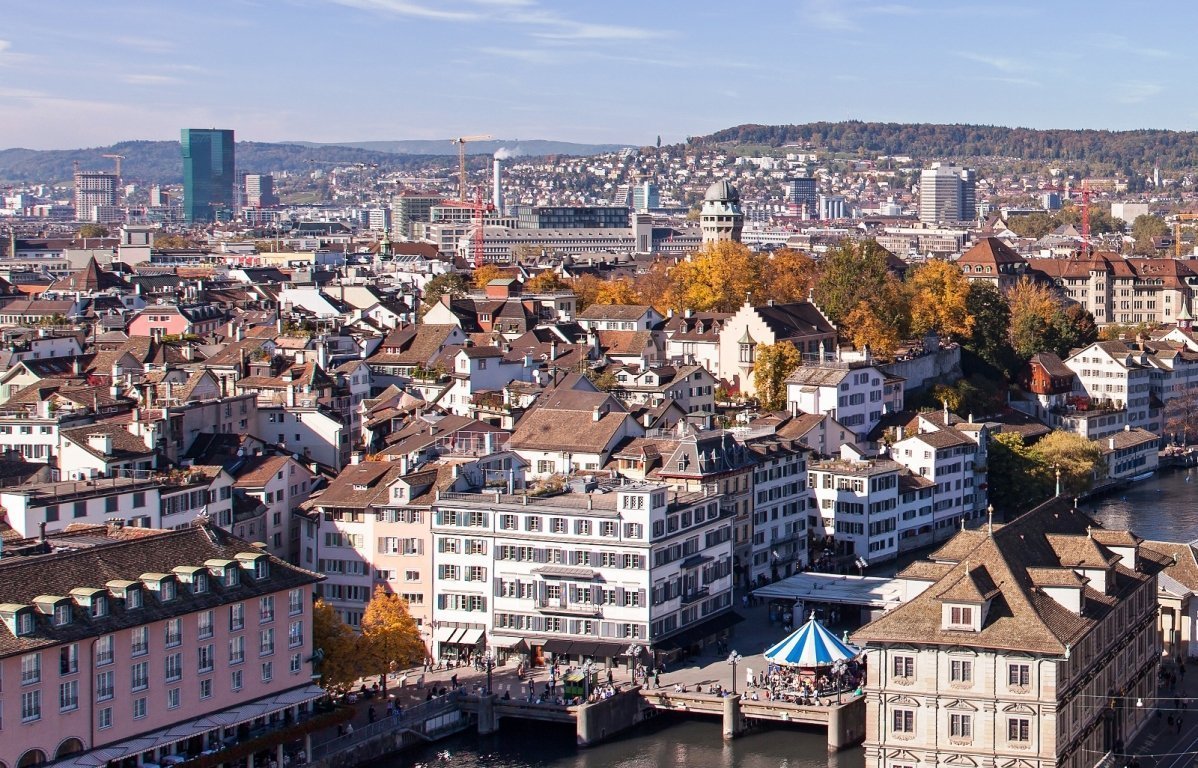 Prime Tower (left)
Citizens of Basel are fond not only of the fact that skyscrapers will appear in the city, but because this will be in their city, not in Zurich, being, by the way, the country's largest city. Basel is only the third, but now it will have something to be proud of. The F. Hoffmann-La Roche company, better known as Roche, builds up new headquarters in native Basel – a cluster of office buildings, with the tallest ones rising up to 132, 178 and 205 meters.
The project history began in pre-crisis times, when in 2006 the company released first proposals for skyscraper construction. Famous Herzog and de Meuron architectural company received then an order to redevelop the quarter, occupied by offices of Roche. It was decided to demolish the existing buildings, as it had already become obsolete, and build instead more modern and higher ones, including the 154-meter spiral Roche Turm.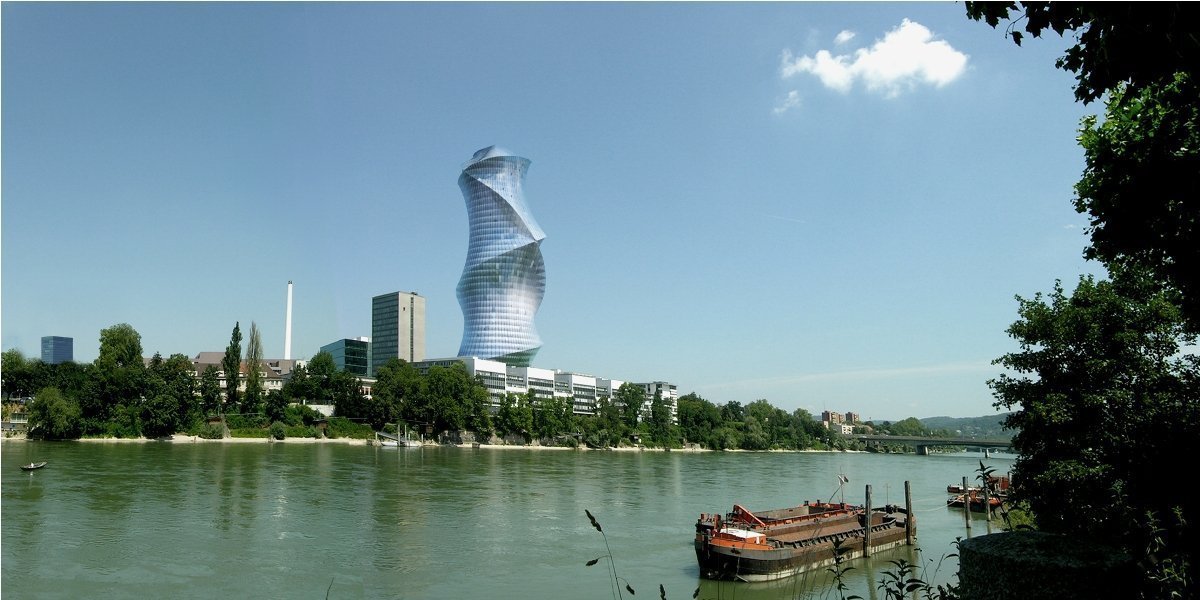 Project of Roche Turm
Later on, this ambitious project was conceptually reviewed by the same architectural company and eventually gained less futuristic look. Firstborn was to be 178-meter skyscraper Roche Turm 1 Basel – the first in the country. The construction of other buildings was planned to follow it. Work in the excavation were launched in 2011 and today the tower is almost ready, being glazed and object commissioning is scheduled for 2015.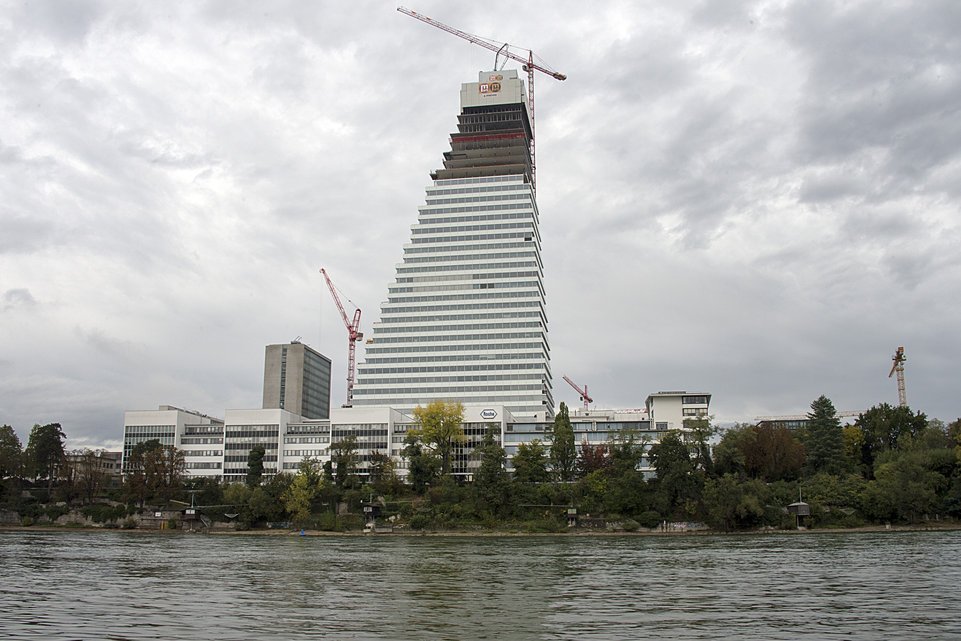 The construction of Roche Turm 1 Basel is almost finished
Hardly had the citizens of Basel and the whole Switzerland rejoiced over appearance of the tallest building, as on October 22, 2014, Roche announced that it won't be for a long. Pharmacists told that cascade of records would continue when they would conquer the 200-meter mark and build another tower 205 meter on the same site. 50-storyed Roche Turm Basel 2 will appear in 2021 and will host 1,700 employees.
--------------------
"The entire Roche complex will resemble cascade or ladder and the steps will be roofs of the adjacent buildings"
--------------------
Cascade of records, expected in Basel – is not just an eloquent expression but quite a real thing. The entire Roche complex will resemble cascade or ladder and the steps will be roofs of the adjacent buildings. 16, 28, 72, 132 and 205 meters. 178-meter Turm 1 tower is almost finished and stands at some distance from the stage (pictured right). Here, right on these steps, the inventors of Valium and Tamiflu will continue to fight with infections and invent new medicines.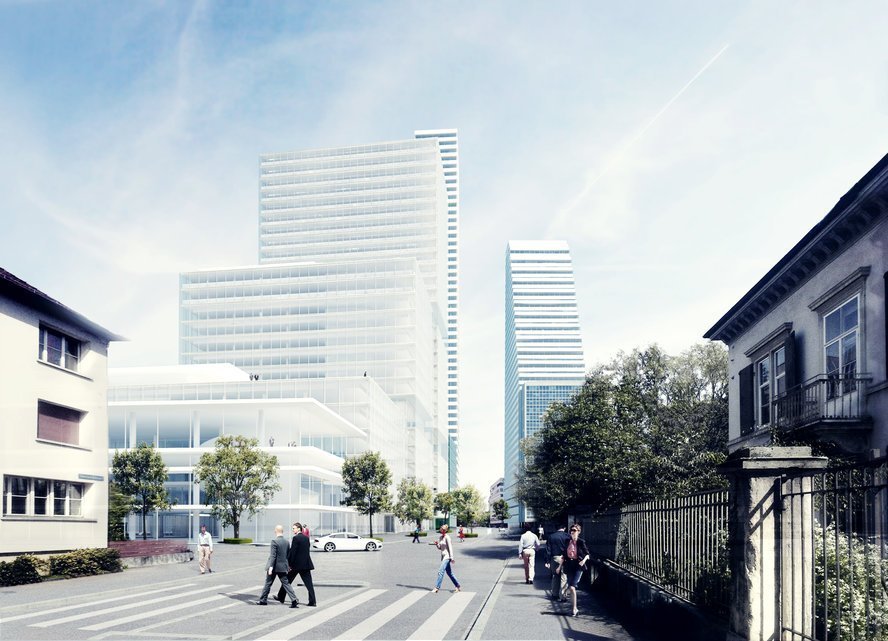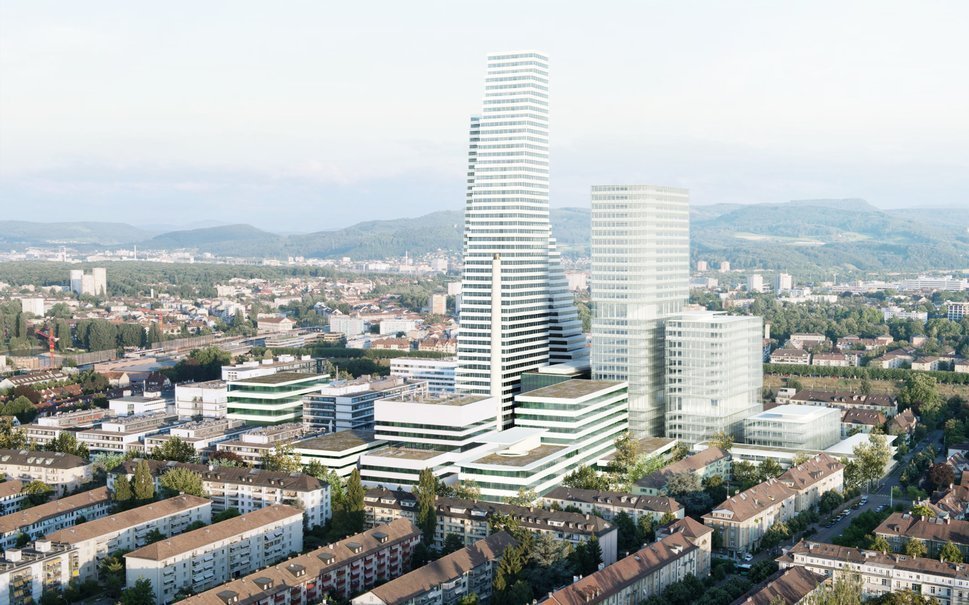 The only way is to grow up
Citizens of Basel are totally happy. Even if some ones are upset, as new dominant changes city's appearance dramatically. But even pessimists admit that jobs, taxes, and the further development of the pharmaceutical industry in Basel worth all this. It is worth noting that in addition to Roche in Basel is also based Novartis, and together they are two world's largest pharmaceutical companies by value of assets.
--------------------
"But even pessimists admit that jobs, taxes, and the further development of the pharmaceutical industry in Basel worth all this"
--------------------
Construction of new Turm 2 skyscraper, announced in October, will cost Roche 550 million francs (€455.6 million). The same budget was spent for its predecessor – Turm 1. The total complex cost will exceed 3 billion francs (€2.5 billion). These are the costs the company could afford, because it is just a quarter of annual net profit.
Buildings in the new project perfectly combine with each other and look light or almost airy due to the abundance of glass and its color. According to Severin Schwan, CEO of Roche, the complex architecture is "elegant, fresh and functional." It's a common European practice that the project boasts of high environmental standards. For example, Turm 1 will consume 5 times less electricity than a neighboring building, built 40 years ago. Another plus: because the site is not located in the city center, the tower will not too aggressively invade the usual panorama of Basel.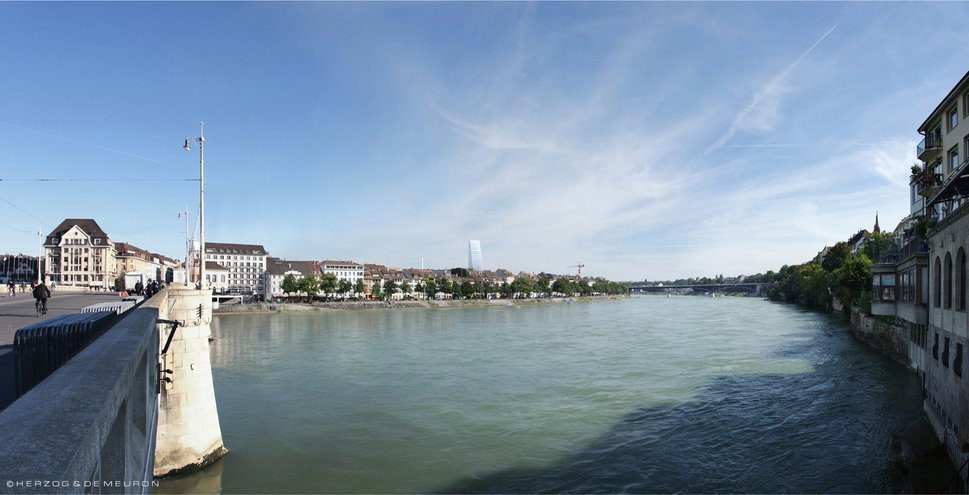 Future view of the Turm 1 from Mittler Brücke bridge over the Rhine. Distance – 1370 meters
Maybe, after office space the high-rise construction will move to the residential sector too. Today, the record belongs to the 31-storeyed Cite du Lignon Large Tower – the residential apartment "anthill" in the suburbs of Geneva, towering at 91 meters. Yet such examples are few and it directly affects the housing cost rising.


Cite du Lignon Large Tower
The main problem is hidden in overcoming tough height restrictions, getting approval from the local authorities to change the zoning plans, and improving of public opinion. An example – residential Claraturm high-rise building in Basel which construction cannot be launched since 2007. Last year, about 60,000 of voters participated in the referendum and reluctantly by 53 percent of the votes approved 100-meter to be built in their district.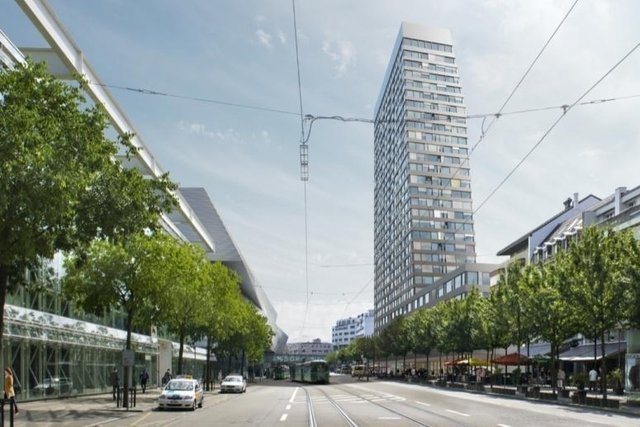 The project of Claraturm in Basel


Big property projects in Basel, 2015-2017
Urbanization volumes in Zurich are more impressive. In the fall, for example, will be finished up a 23-storeyed Zölly – an extraordinary shaped building, located in new developed area, near the center. For sale remained only three bedroom apartment of 122 square meters for the common price for Switzerland of €1.54 million (€12,700 per sq. m).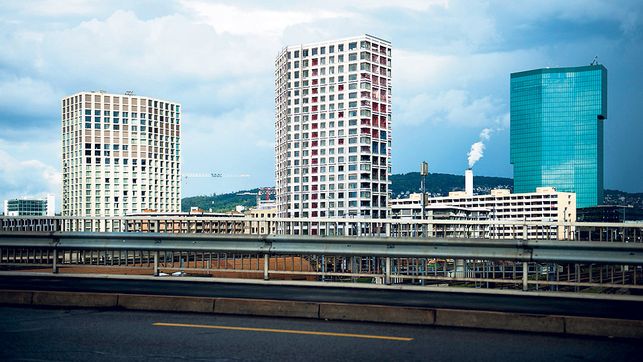 Zölly in Zürich (in the center)
Real estate prices in Switzerland are going up steadily, and experts even predict that the market will not sustain and someday will fall (bubble effect). In the year passed by Q2 2014, housing in this country went up by 1.5% (Knight Frank). In Zurich, for example, square meter costs €5,000-10,000. The Swiss themselves have no place to live in, but also rich foreigners strive to capture the flagships, thereby artificially increasing the price. No wonder that natives voted against migrants from the EU, and the government imposed restrictions on the real estate purchase by foreigners.
But even the Swiss realize that when breadth growing is impossible, the only way is to grow up. It is unlikely to lead to decrease in residential and commercial real estate value, but this development may meet the growing needs of people and businesses, and slow the growth of prices.
Text: Paul Oligorsky, ee24.com
Photo: shutterstock.com, roche.com, bazonline.ch, jacobogordonlevenfeld.es, affordablehousinginstitute.org
Read also:
Commercial attractiveness of London is reflected in skyscrapers
Berlin reserved a place in a sky queue: people will be moved to high buildings
Russian skyscrapers will help Paris to overtake London
Skyscrapers will be built in Helsinki
Spain builds most of all skyscrapers during the crisis