In 2014, the volume of transactions in residential private housing in Spain increased by 23.4% y-o-y, amounted to approx. €46.996 billion. According to the Spanish Ministry of Development, 347,202 transactions were signed, that is 21.7% more than in 2013, as ee24.com informs referring to eleconomista.es.
€7.268 billion (-5.6% y-o-y) were spent on the primary housing in Spain in 2014, while on the secondary real estate – €39.727 billion (+30.8%). The strongest regions in volume of transactions were capital Madrid (€9.293 billion), Catalonia (€8.576 billion), Andalusia (€8.225 billion) and others.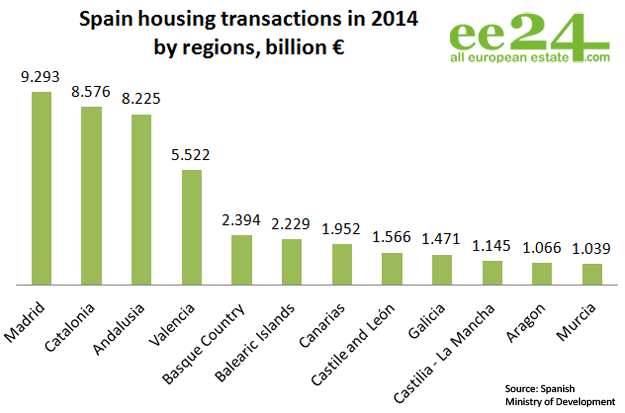 The lowest volume of transactions in private housing sector in 2014 was recorded in the northern provinces of Spain, as Asturias (€608.9 million), Navarre (€560.6 million) and Cantabria (€513.9 million). At the end of the list were Extremadura (€438 million), La Rioja (€265.8 million) and African territory of Spain – Ceuta and Melilla (€129.3 million).
Read also:
Spanish rundown. All about the real estate market in 10 paragraphs
Villa Paula, where Montserrat Caballé rested, is up for sale for €12.9m