Barcelona is an inspiring European city, the marine capital, a cosmopolitan city with sea and mountain views. It is a city with a thousand years history, a fashionable resort, energy center of the country and place of great attraction for artists, architects, developers, investors and tourists who choose Barcelona from all other Spanish cities for style and elegance.
Not only Gaudi
In fact, modern Barcelona was formed as a result of some "volcanic tremors" between the two milestones of its history: the 1929 World Exhibition and the 1992 Olympics. The current image of the city was completed by several development projects at the beginning of the zero years.
--------------------
"Modern Barcelona was formed between the two milestones of its history: the 1929 World Exhibition and the 1992 Olympics"
​--------------------
If you subtract all industrial and technical areas, then tourists and residents get only about eight miles of coastline. Historically, the land along the beach, as it often happens in coastal cities, was less popular and was occupied by the poorest people's housing, and then by the plants, factories and warehouses. So today the main recognized achievement of Barcelona is transformation of dull embankments and neighborhoods of La Barceloneta near the port into a modern city district with a cascade of parks and promenades. In memory of the past, on one of the beaches there is a monument in the form of piles of rusty pipes, made by well-known artist Rebecca Horn.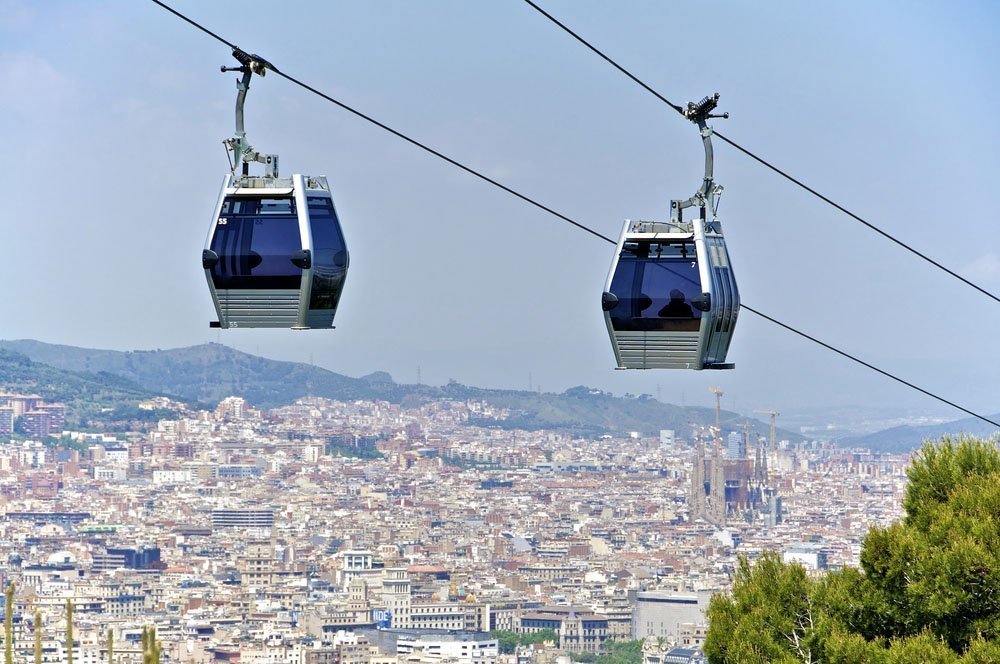 Cable car
If you want to feel the spirit of the city, you should come to Montjuïc hill by cable car built in 1929 from La Barceloneta above the passenger port and the World Trade Center by American architect Henry Cobb. There change for cableway of 2007 with small silver booths and get to the top, to the fortress of Montjuïc. From there you can see the whole of Barcelona. You'd better go back the other way: next to the new cableway take public transport - underground funicular that brings you directly to the metro station Paral·lel. And it is not because of uniqueness of the changes, though it is a world rarity, it is more important to feel the space of Barcelona, ​​which elegantly stretches its streets from the Mediterranean Sea to the mountains.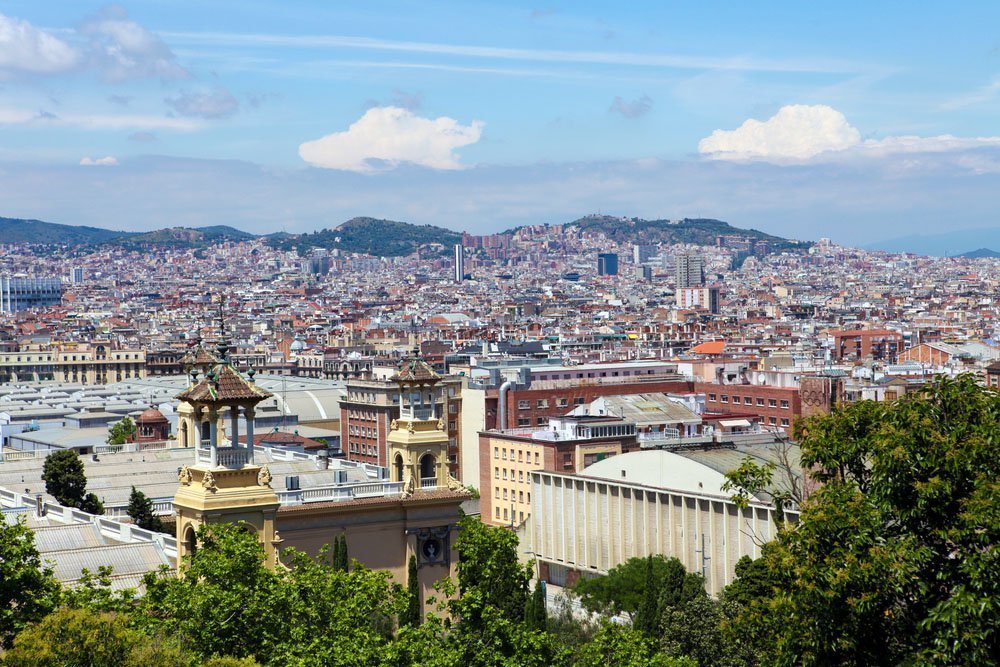 View of Barcelona from Montjuïc
Local realtors say that if you come here with a budget of €250-350 thousand, it is best to buy an apartment in such areas as the Eixample or Diagonal Mar. In this way you can not only enjoy, but also earn some money - up to €1,000 per week, renting it out to tourists.
The budget for a good purchase begins, admittedly, with €250 thousand, but in reality in Barcelona it is difficult to find a well-located apartment which is not too small (with one or two bedrooms) and does not need to be repaired for less than €400-450 thousand.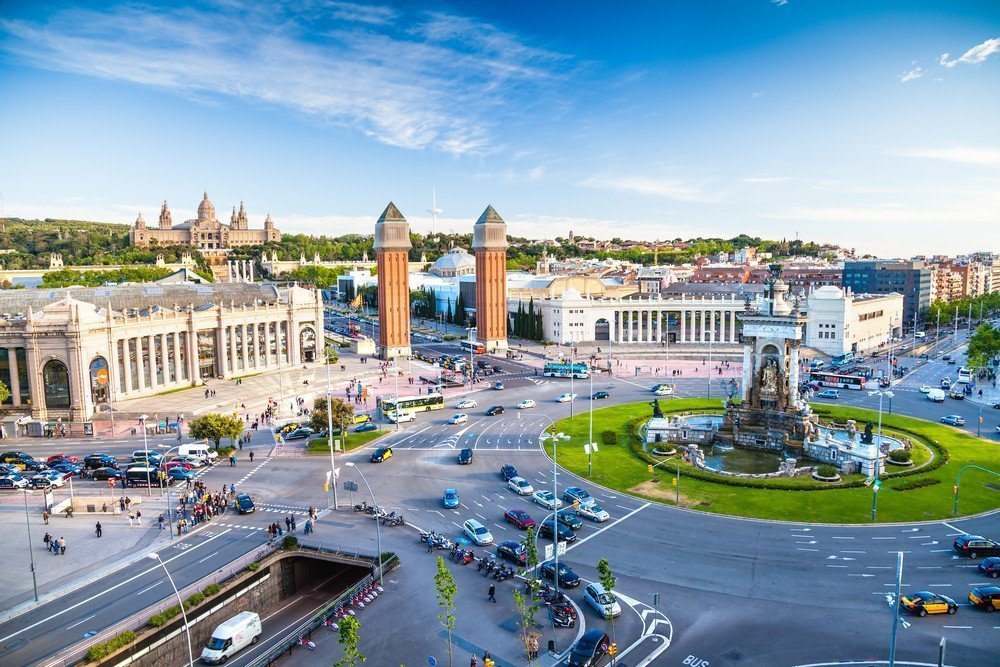 Not only coastline
Like any other big city, Barcelona can be divided into several zones: some of them are more popular among locals, some - among tourists, and others are more interesting for businessmen. Not all places are interesting for foreigners.
Zone 1. The Eixample - classic center of Barcelona, its heart. Everything is close or easy to get to. As in Born, where modern coexists with the Middle Ages, the place offers first of all rich local Catalonian flavor. There are old buildings (one hundred years old or more), and sea views are only from some houses of La Barceloneta, an old district with narrow streets.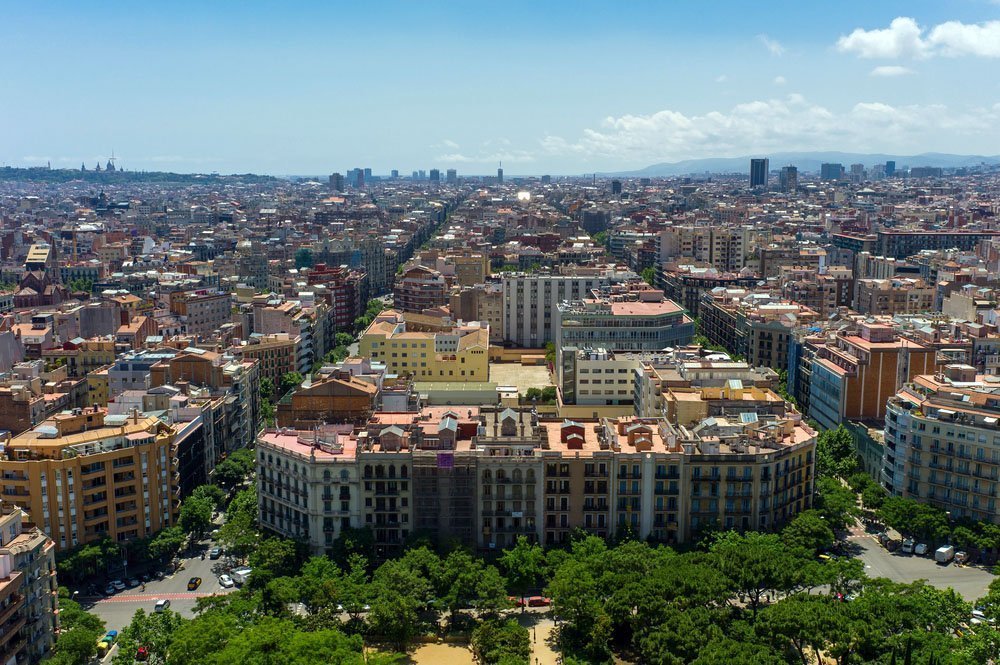 Eixample
Zone 2. Olympic Village. Lots of greenery, the beach is great, but overloaded with tourists. The coastline is built up with social and tourist facilities (a hospital, hotels, a gym, offices, restaurants). 20 years after the Olympic Games this area turned into a cozy neighborhood. But you can find sea views apartments only in high-rise buildings located relatively far from the shore.
Zone 3. El Poblenou. Promenade for tourists and restaurants are located on the seafront. Buildings start 200 meters from the sea, but buildings, which are the closest to the sea, are low-rise and from the old fund. There are not many apartments with good sea views.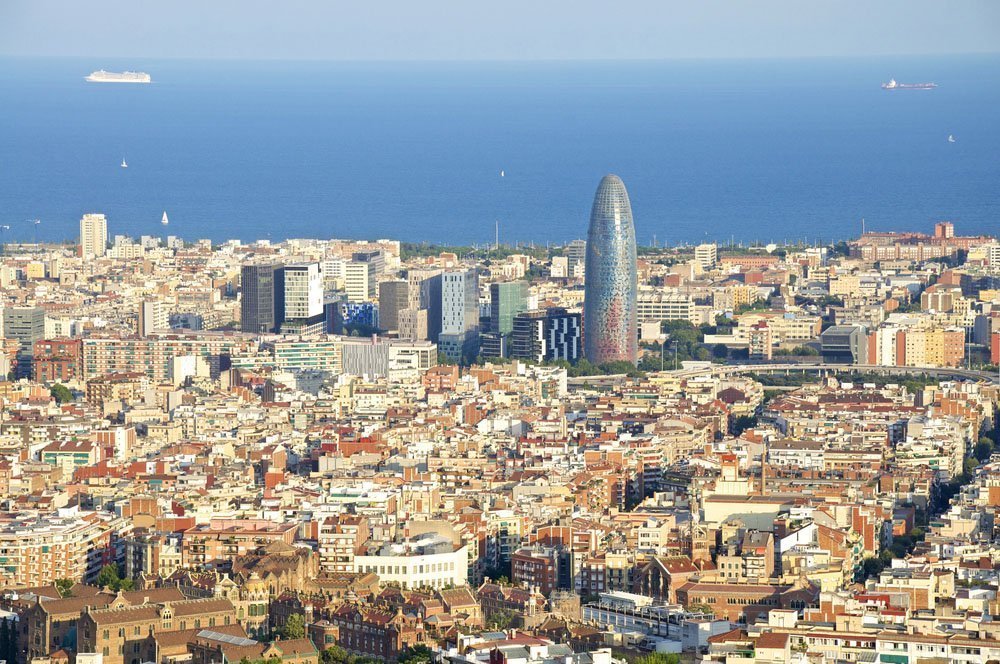 View to Poblenou
Zone 4. Districts of Front Maritim with buildings that are 7-15 years old. According to their characteristics, it is middle-class housing, but thanks to sea views it is considered as prestigious. Sea front of the area is completely finished, there are no new buildings.
Zone 5. New district of Diagonal Mar. Definitely it is interesting for foreign buyers in the first place: apartments are located near the beach, they have lovely sea views, well-developed infrastructure, metro. Here are the International Convention Centre "CCIB", large shopping mall Diagonal Mar with 240 shops, cinemas, restaurants and a hypermarket. Construction of the last two high-rise buildings of the complex Illa de Mar has been recently completed: two towers of 26 and 22 storeys, landscaped area with park, swimming pool and parking. As for prestigious buildings: that is residential complex Illa de Llum. All apartments from developer have been sold, but there are offers on the secondary market. Apart from the historical center, here you can find the highest prices per square meter in the city. Property with panoramic sea views moves to the secondary market more and more.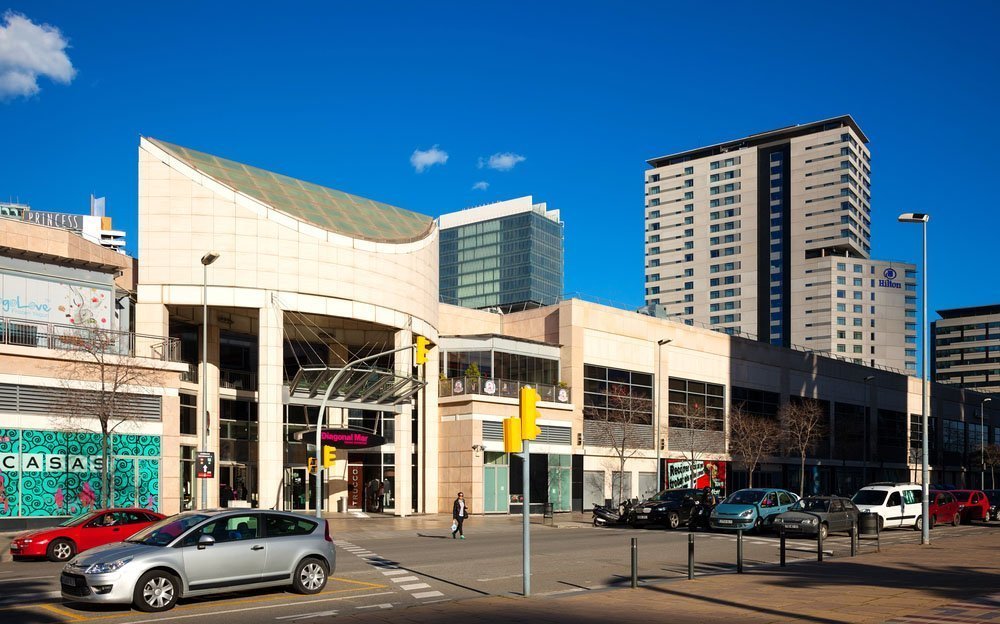 Mall in Diagonal Mar
Zone 6. Area of the exhibition centre FORUM was created in 2004 by Jacques Herzog and Pierre de Meuron's project. The Auditorium Park stretches to the shore and it ends with a giant solar panel, built in 2004. Residential properties start outside the FORUM-zone and Barcelona boundaries - suburban villas cost from € 1,5 million
In love with Barcelona
"Real estate market in Barcelona is very mature, so there are only few new offers", says Ian Tozer, general manager of Seabestland. "Unlike Barcelona, suburbs offer a wide selection of apartments, houses and villas with swimming pools, excellent infrastructure and excellent transport connections to Barcelona in such areas as Costa Dorada, Sitges and Maresme.
"Choice of places of residence in Barcelona near the sea is limited. A few blocks in front of the Olympic port, five blocks of Front Maritim and the area of Diagonal Mar - and that is actually all. But I say it because Russian buyers tend to artificially narrow the range of the search, demanding a sea view. Sea view out of the window is important for the Russians, but not for the Spanish. Living near the sea in Barcelona can be quite convenient and comfortable, but whatever housing you choose on the shore, you'll be practically isolated from the "real" life of the city and the Spanish national colors," says Marina Luganskaya, director of company "Valencia".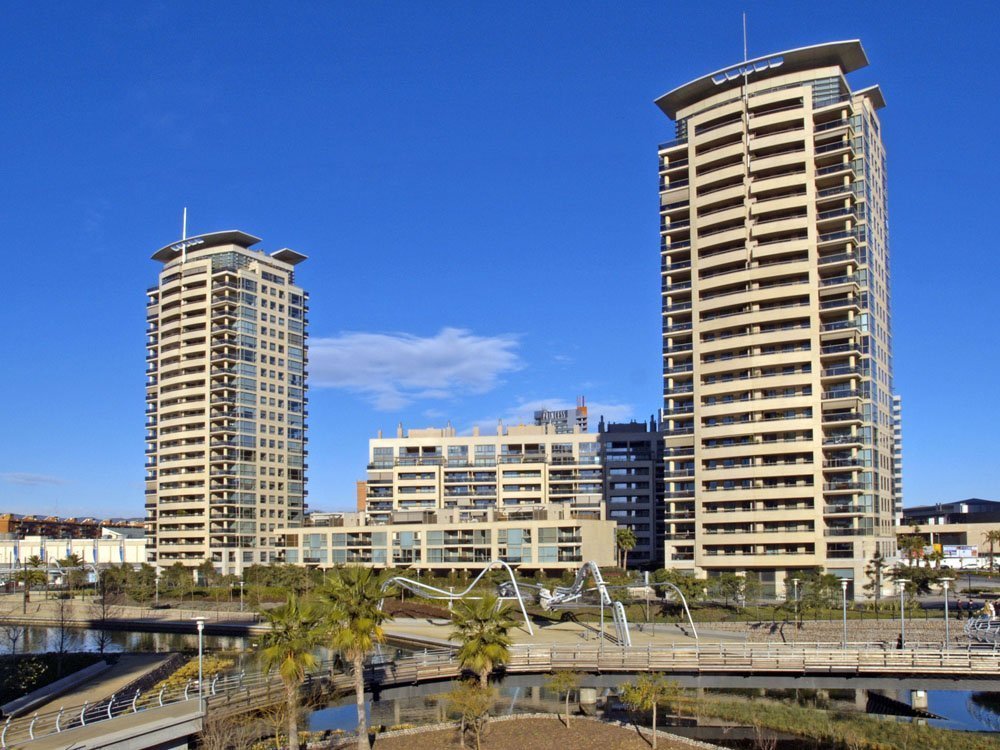 New apartments in Diagonal Mar
However, realtors recommend some districts to potential buyers as places where it is not advisable to be. Ian Tozer does not recommend CiutatVella and Sants - Montjuic, as well as Raval - due to high level of immigration "and all related problems".
Everything is clear: any such recommendation causes a lot of gratitude in a city where you will have 90% chances that you have to buy an apartment on the secondary market.
--------------------
"The Russians feel fine in Barcelona and they buy apartments for € 250,000 - € 500,000 with excellent infrastructure, in order to live in Spain with their families for six months or more"
--------------------
But a request to give some advice in terms of demand for apartments for rent is not what all realtors really understand: the Spanish believe that such motives are not common among foreigners here. And nobody is eager to guarantee renting out the purchased apartments. Foreigners usually buy apartments in Barcelona for themselves.
"Now, after the crisis, the British are becoming very active again, and they mainly choose Spanish property in Barcelona and surroundings. The Scandinavians are also very interested in buying property in this region. They prefer to have the second residence here. The Russians are in love with Barcelona as it is a combination of business and entertainment. Here they feel fine and they buy apartments for €250-500 thousand with excellent infrastructure, close to schools and universities, in order to live in Spain with their families for six months or more," says Ian Tozer.
Text: Yulia Lozovskaya, especially for ee24.com