Prices for elite "squares" in France have grown: real estate in the ski resort of Morzine has risen by 6.7% (the highest rate in Europe) in a year to June 2014, and in Val d'Isere – by 3.2%. For comparison, the Swiss Zermatt showed 5.5 % rise in house prices on the mountains during the same period, and Verbier and Davos – 5% and 4.9%, respectively, according to Prime Ski Property Index 2014 study published by Knight Frank (data for June 2013 – June 2014). However, the latest data for January 2015 show that currently Switzerland has become by one third more expensive for foreigners than before.
Italian resort of Cortina d'Ampezzo fell in price by 11.8% (the worst figure among the alpine resorts in the study). Housing in French Meribel and Courchevel (1850) fell by 4.3% and 6.5%, respectively.
The share of property buyers from Russia and the CIS countries in the French Alps amounted to 5% (the same percentage – North Americans). Leaders in buying chalets on the ski resorts were Europeans (61%), as well as representatives of the Middle East and Asia (12%), is said in the Knight Frank study.
As was calculated in the agency, the greatest benefit was generated by the property purchased in the Alps by the British due to the strengthening of the pound. Savings of Britons (this calculation covered house in Courchevel for € 3 million) increased by 319,000 pounds per year (June 2013 – June 2014) considering also rising of prices and difference in currency rates.
Figures
6.7% – the average profit of a chalet in Courchevel (according to Knight Frank).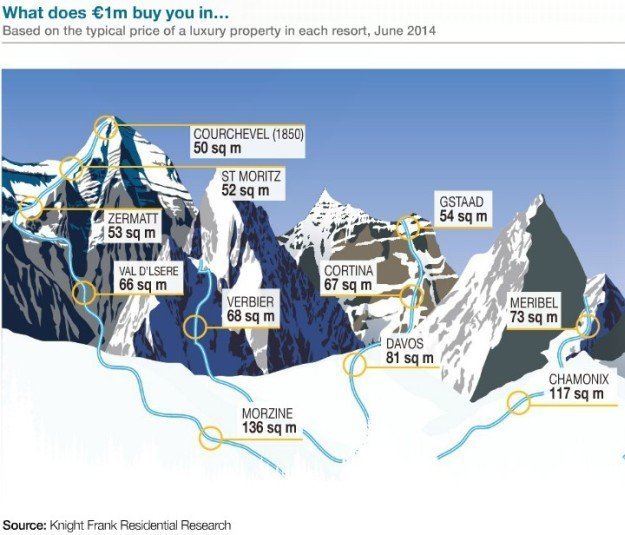 Read also: