Unprecedented things happen right in front of our eyes: German and foreign developers offered to build a few residential 150-meter skyscrapers in Berlin. Unprecedented - not only because the projects remain just at the paper and are "invisible", but because there are no buildings in Berlin with such height: for almost half a century record belongs to 125-meter hotel.
Berlin is rapidly growing and construction of new building in that "flat" city simply is behind the population increase. There are too less new apartments in Berlin. According to Bulwiengesa AG, the 6,000 residential objects were placed at the market last year, this year 7,500 are expected. However, the shortage is felt. Some urbanists believe that 16,000 apartments should be built in Berlin annually.
Only in 2012 in Berlin came 40,000 of new residents (+1.5%), another 19,000 were added in the first half of 2013. Now the city is home for about 3.5 million people, and this number is increasing due to the Germans and foreign migrants as well. According to forecasts published by The Wall Street Journal, the population of Berlin will increase by 250,000 by 2030.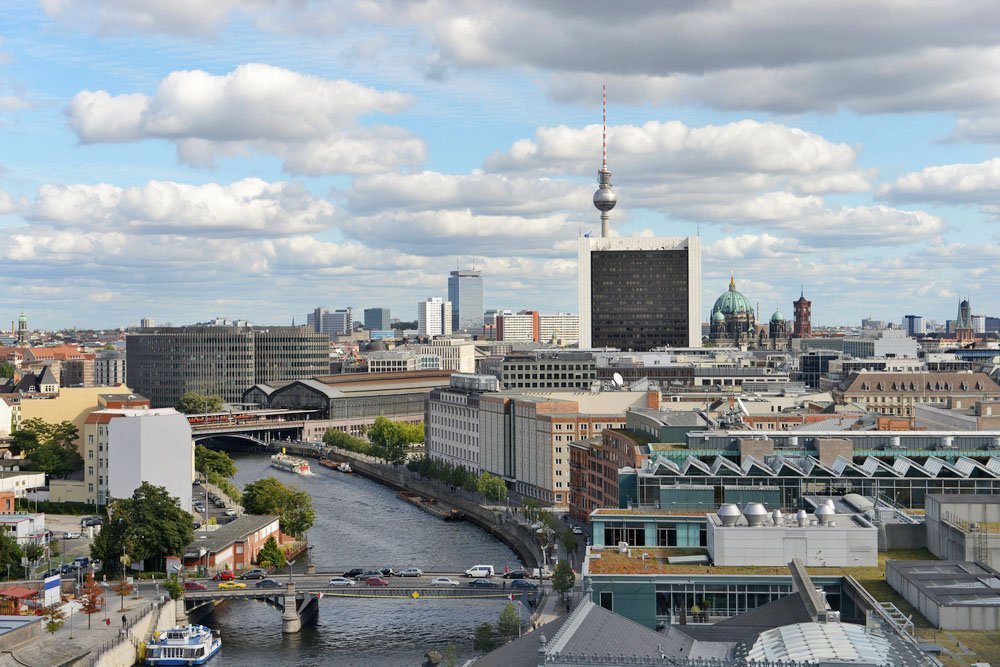 There is still enough space in Berlin, unlike the same Munich, where every free piece of land matters. So far, developers feel comfortable, and prices at the capital are not the highest in Germany (this price situation is quite rare for the countries where the capital is the largest city). The cost of apartments in Berlin is €2,000-3,000 per sq. m., closer to the center an apartment may be purchased for €4,000-5,000 per sq.m.
Real Estate in Munich is more expensive and also in Hamburg it's not cheaper, but cosmopolitan Berlin in any case is not an outsider and has its fans. Therefore, although the prices are low, situation may change in the future. Moreover, sooner or later the land is out and the city will have to expand into the infinite agglomeration or grow up. It seems that we are now seeing the first attempts of the second development possibility.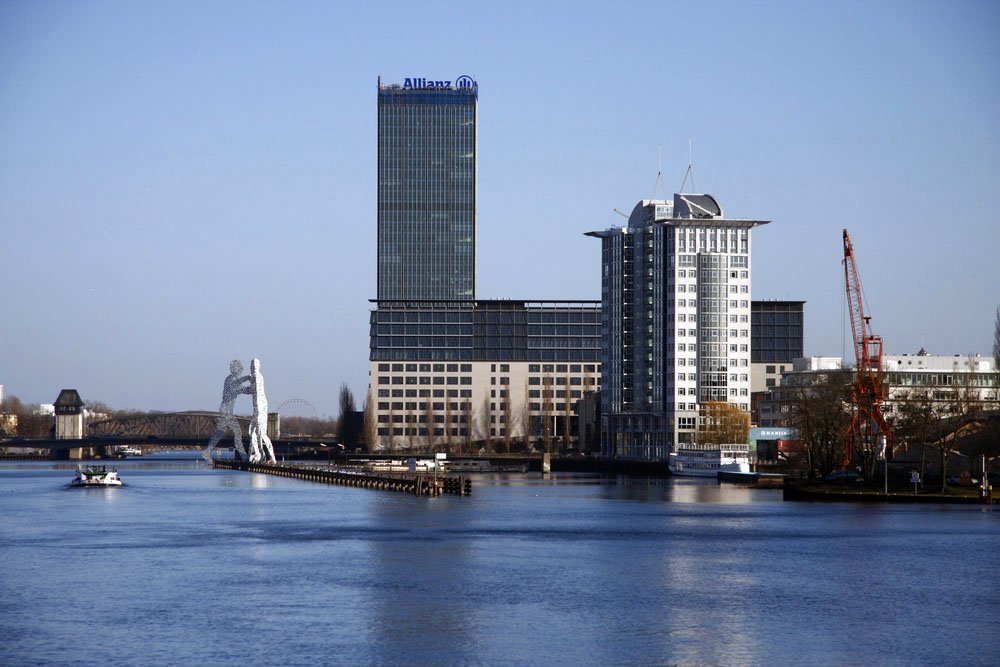 Treptowers. High 125 meters; built in 1998
What do we have now? Among the altitude leaders are office complex Treptowers and Park Inn hotel, existing since "Soviet" times. Both are 125-meters high. Berlin is not Dubai or even Frankfurt, with its tallest building in Germany and the second highest in the European Union (Commerzbank Tower, 259 meters).
But the situation is changing. Marc Wiese, General Manager at Sanus AG, told ee24.com, that the Germans earlier did not like to live in high buildings, but now realized that such buildings can be beautiful on the outside and comfortable inside. The expert believes that during the next two decades "many high buildings and skyscrapers will be built in Berlin." Let's have a look at what the developers offer for Berlin.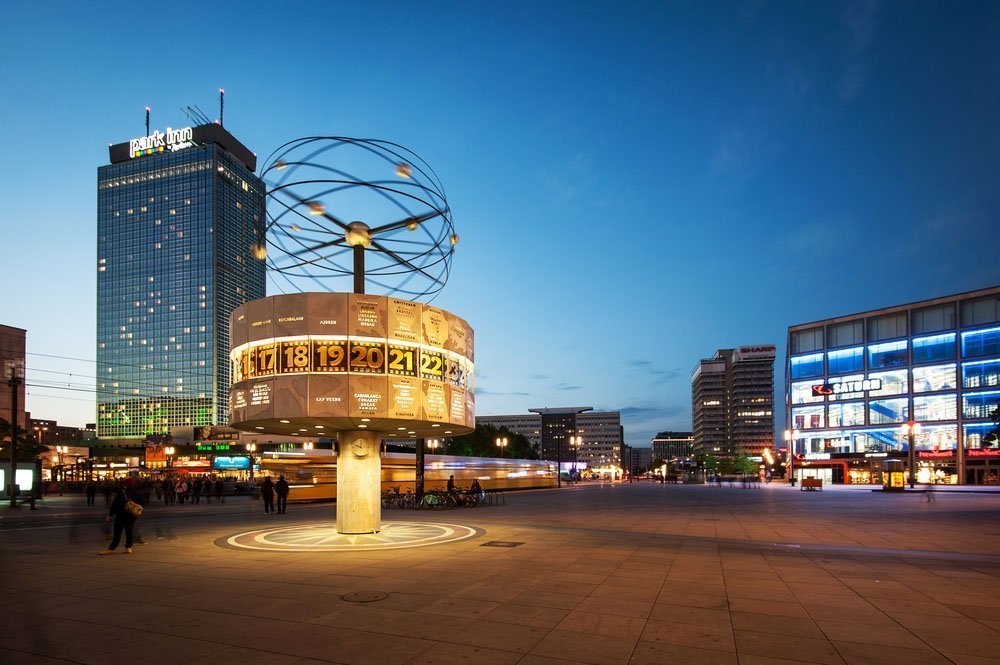 Park Inn. High 125 meters; built in 1970
The highest of projects with some possible for implementation is 176-meter high Estrel tower (hotel and apartments) located in Neukölln - a developing area in the south of Berlin. The project was approved a few months ago and construction should start in 2015. The developer is Streletzki Gruppe (Berlin).
Hines Interests Limited Partnership from Texas proposes to build up a 150-meter high residential skyscraper (architect Frank Gehry) near Alexanderplatz (former East Berlin), in addition integrated area development with the creation of transportation hub and building of trade and public spaces is planned.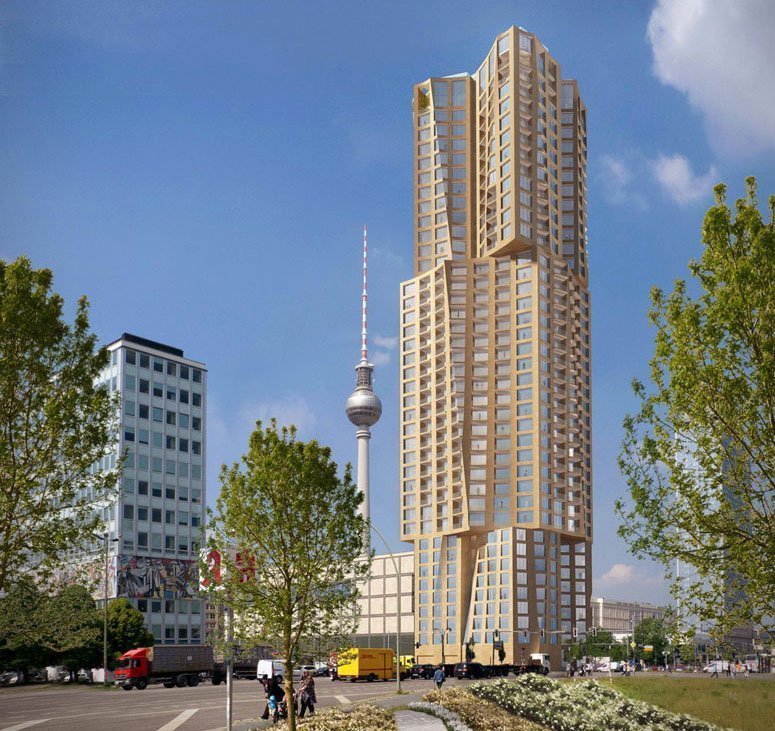 Project of Hines building worked out by Gehry Partners, photo from archdaily.com
The third proposal, that may hang in the air due to the tensions between Russia and the Western world, is another 150-meter tower in the same location worked out by Russian developer MonArch, who actively built sports facilities in Sochi before the Olympics. An agreement of intent for land plot purchase has already been signed. According to The Wall Street Journal, citing sources close to the deal, the final price for the site at Alexanderplatz may jump up to €30 million. Currently land is owned by Portuguese retail operator Sonae Sierra and French investment company Fonciere Euris SA.
Despite the need for residential areas, officials are confident that the number of skyscrapers will be limited, and their appearance will be possible only in two places: at the Alexanderplatz square in the East and at the Kurfürstendamm Boulevard on the West. Thus, Berlin will have two centers and clear horizontal line.
Text: Alexander Fetyukov, ee24.com