London is a city where a square meter may cost more than apartment in Bulgaria. Other regions of England are not much cheaper. Where to buy property in the UK, how much it costs and why it is impossible to buy an apartment in this country – read in the ee24.com article.
Not only London
Where to buy property in the UK? If we were talking about Germany or France, it would be possible to meditate, but in the case with the Northern Kingdom, the answer is obvious: in London. Even the realtors often flounder: they talk about the British market identifying it only with London. The question of shopping geography in England may seem irrelevant to the readers but the demand is saying the opposite. The bigger share of transactions is, of course, made in the capital, but foreigners also pay attention to the other cities. UK is unlike the countries of Eastern Europe, where the normal life stops outside of the big cities.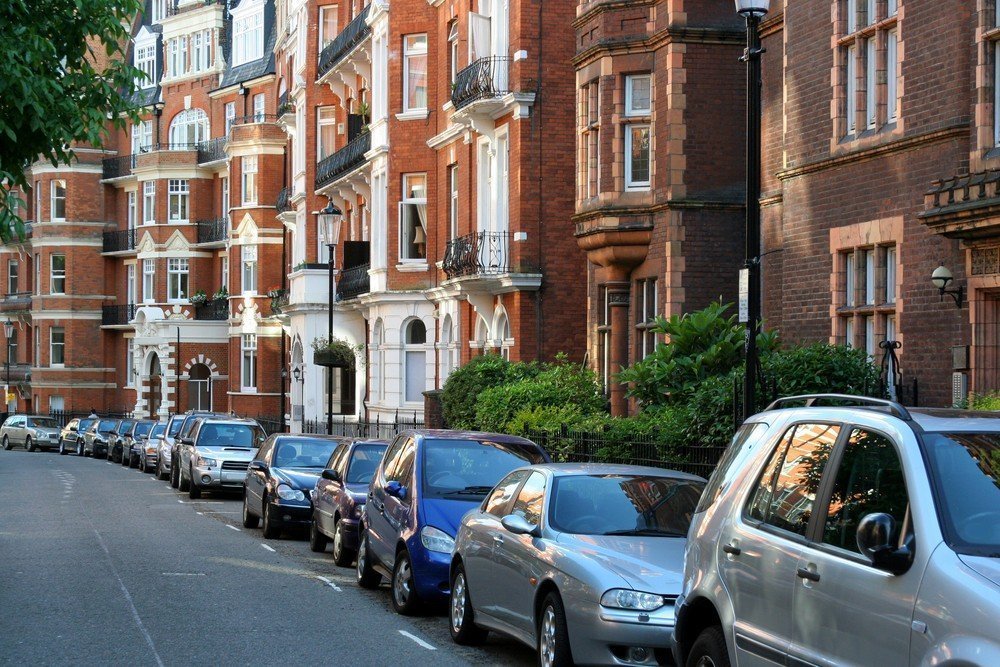 Kensington, London
Where to buy a property in England? There is a great variety of options, but all the standard ones can be counted on the fingers. Firstly, it's London. It's comfortable place for parking assets (you can make a profit on the property prices growth, not renting it out but only maintaining it in a "proper" condition, or you can get a double profit, if opening the door for tenants).
It is London, where golden rivers from entire world flow in. Russian oligarchs don't shy and one of them is Andrey Goncharenko who even hit the British tabloids because of buying the most expensive house in London. Hannover Lodge mansion located in the prestigious Regent's Park area cost the former top manager of "Gazprom" €150 million. But even the Russians may be restrained: the Ukrainian oligarchs, who, unlike the Eastern partners have not yet managed to acquire property in the UK, took the first place in purchasing real estate in London. In the ranking made by The Telegraph on transactions involving the residents of the former Soviet Union countries, the Russians are at the second place, the Kazakhs on the third and the fourth belongs to the Azerbaijanis. Altogether, they invest in London's property over €1.1 billion per year (according to other data the Russians spent €225 million (Savills) in 2013. Even this money don't make the main cash if taking into account share of foreign buyers at the market of London that is only 7% and in the premium real estate segment is 32% (The World in London in 2014).


Modern Liverpool
The second direction to buy real estate in the United Kingdom is formed by eternal rivals of large cities – Manchester and Liverpool, as well as the Scottish Glasgow, Aberdeen and Edinburgh. The last one, by the way, has excellent investment opportunities, but it is better to wait before buying at least a couple of months: results of a referendum on independence on September 18 will affect much. The market will respond in October. Experts say about future trends with caution: logically demand should falter and the attractiveness of investments would fall, but so far the property prices in Scotland are rising even faster than in many parts of England. In the past year they soared up by 5.7% (LSL and Acadata) and over the next 12 months could increase by 3.3%, whereas in the whole United Kingdom is expected to increase by 2.6% (RICS). Regions are ideal for investment purchases: net rental income is up to 6%, while in London it's just 3.5%.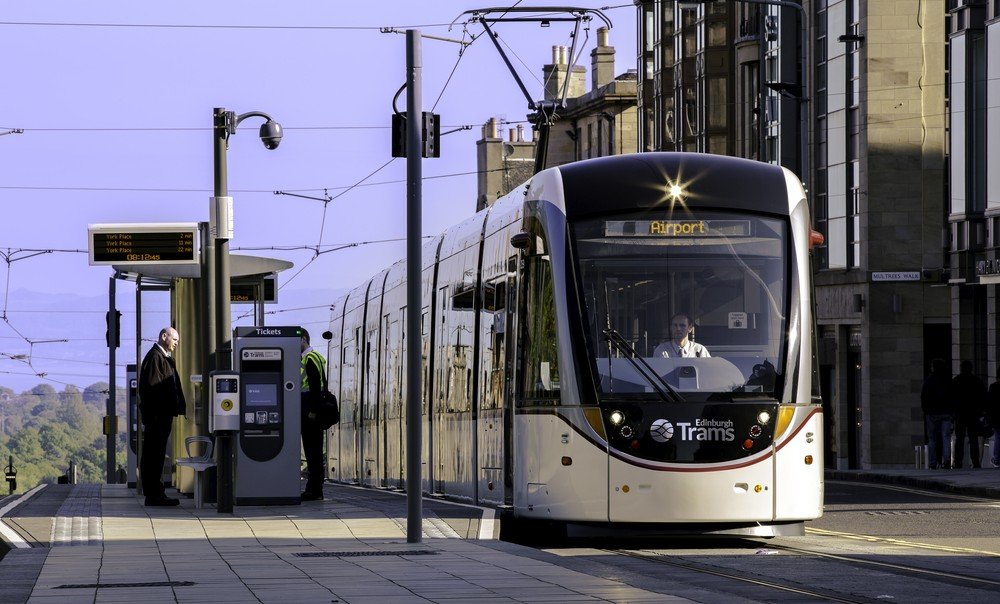 Edinburgh trams run on schedule
Suburbs of large cities are considered to be the third popular destination – working, family or retirement destinations. A typical English village differs a lot from what we are used to seeing when leaving the city. It's licked and brushed, there are almost similar two-storey homes with built-in garages, built up almost right next to each other. There are no any fences: step off from the curb and you're on the lawn, and the house is just in five meters in front of you. Usually there are three ways to leave in the "rural wilds": by train, by car or by bus. A twenty-minute ride on the train to the city will cost about €5, but it's just for a single ticket – without all sorts of discounts and bonus programs. Car maintenance at the Foggy Albion also requires significant expenses. In England, like in the whole civilized Europe, the bus transport remains the cheapest.
Buying a property in England for children's education is also a common cause. In this case, there is no need to buy a house or a penthouse in London: inexpensive houses or apartments in the capital's suburbs or housing, located next door to the site of education are preferred. Within an hour's drive from London there are towns, offering property for less than €250,000. And finally the last but one market is formed by resort areas in the south-west of the United Kingdom, in the counties of Devonshire and Cornwall. You heard right: summer in these areas is quite warm and beaches are good, so wealthy pensioners, both local and foreign are happy to buy real estate there.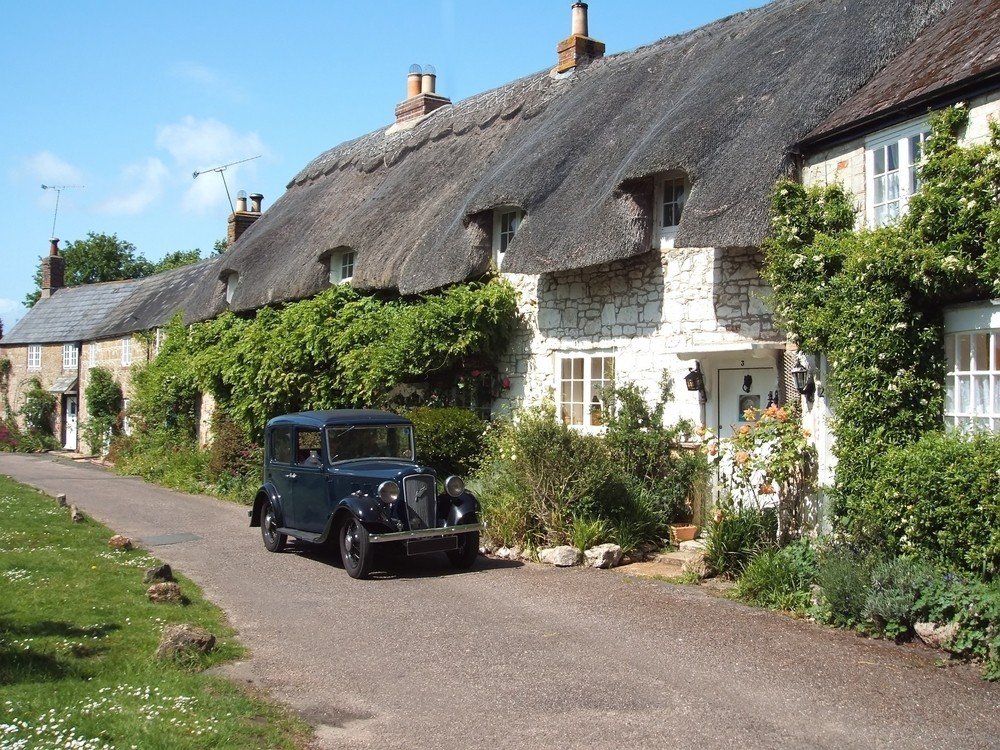 Rural life in England
Property prices in overall Britain are rising. And they will continue to grow
When speaking about Europe, experts point out only a few markets, differing in liquidity, safety and stability, attracting investors. This are Germany, Austria, Switzerland and, of course, England. The last one is distinguished by the ease of purchase, lack of rent regulation from government side and, unfortunately, the high prices.
Property prices in England haven't noticed the crisis and are steadily growing. However, this summer, analysts and vendors have reported a slowdown or even complete absence of growth. While in many countries statistics is not available and there is no data on the average cost of housing, pricing reports in popular England aren't published just by laziest ones: Office of National Statistics (ONS), National Building Society (NBS), the Royal Institution of Chartered Surveyors (RICS), the Land Registry, Halifax Bank, Rightmove, Zoopla and Home sites, analytical agencies Knight Frank, Savills and Hometrack. And that is not even a complete list. The second problem: everyone calculates average price of "standard" apartments (for England it is a two-bedroom apartment) or the average price of all the objects, but no one hurries to report the cost per square meter.
--------------------
"There is so many statistic data about England that buyers find absolutely different figures about average prices and their growth dynamics"
--------------------
From Q1 2013 to Q1 2014 property prices in the UK rose by 8% (Eurostat) or 7.35% (Global Property Guide). Housing in England and Wales increased in price by 6.4% in a period from the beginning of the year until June 2014, reaching the amount of €220,000 per object (Land Registry). The cheapest property in England is allocated at the Northeast, where there are no more or less well-known towns (€124,000), as well as at the North-West, in the neighborhoods of Manchester and Liverpool (€138,000). London is, of course, the pricing frontrunner (+16.4%, €553,000).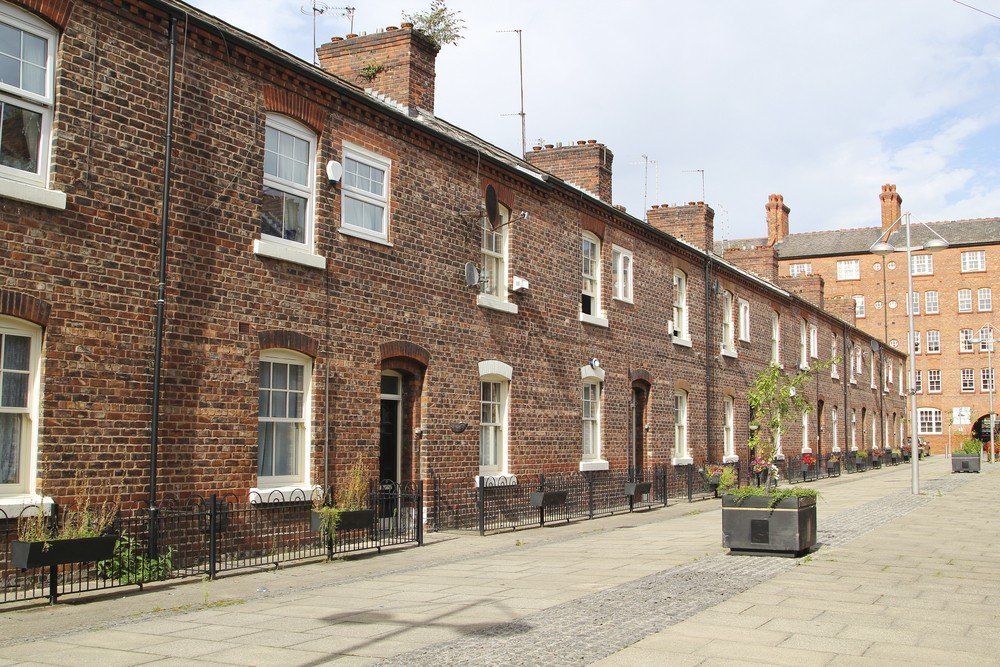 Georgian houses in Manchester
ONS gives a completely different data, leaving even less hope for those wishing to buy cheap houses and apartments in England:
| | | |
| --- | --- | --- |
| | Average price | June 2013 – June 2014 |
| The United Kingdom | €332,000 | +10.2% |
| The United Kingdom excluding London and South-East | €252,000 | |
| London | €624,000 | +19.3% |
| England | €345,000 | +10.7% |
| Wales | €209,000 | +3.5% |
| Scotland | €242,000 | +4.9% |
| Northern Ireland | €171,000 | +6% |
The Rightmove portal doesn't share the optimism of colleagues, announcing the beginning of long-awaited (for buyers, of course) era of decline in property prices in whole England and in London in particular. Since July until August housing prices in the UK fell by 2.9%, while in London by 5.9% – it was the greatest fall in the last 6 years. Nevertheless, this city still amazes with its high prices. Sellers ask €1,893,000 in the center and in the City and the cheapest deals are concentrated in the east of the capital, where the average price tag is €481,000 but this area is going up faster than the rest of the city. George Shishkovsky, managing director of the British company LondonDom told the ee24.com that prices in prime locations range from €10,000 up to €80,000 per sq. m. and apartments in luxury buildings are offered for sale for €25,000-30,000 per "square."
| | | |
| --- | --- | --- |
| London's districts | Average price quoted | January 2008 – August 2014 |
| The centre, City | €1,893,000 | +37.7% |
| South-East | €768,000 | +33.1% |
| North-East | €746,000 | +30.8% |
| East | €706,000 | +41.8% |
| North | €683,000 | +34% |
| South-West | €521,000 | +31.8% |
| West | €481,000 | +23.8% |
Generally, prices decrease is not a reason to be afraid about. This is associated with seasonality and tightening of credit rules of the Bank of England. According to calculation made by the eMoov if today the average price of real estate in the UK is €236,000 then in 2020 it will reach €388,000, in 2030 will raise up to €885,000 and in 2032 the €1 million will be subdued. It's just about mathematics not about the magic.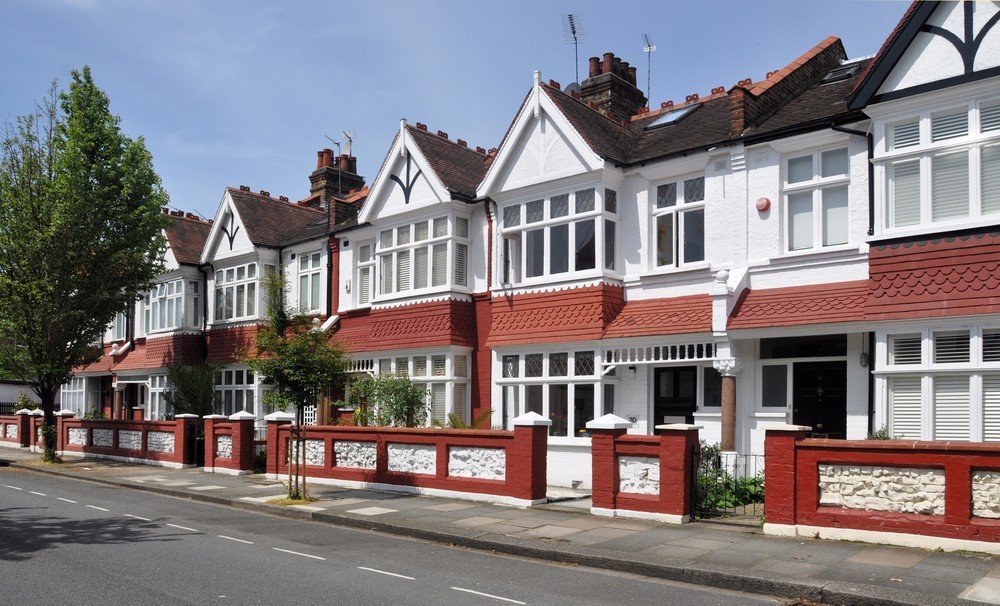 London street of typical small Edwardian terraced houses, without parked cars
The only thing you must remember when buying a single family house, is that you become the full property owner. In other cases, namely when buying an apartment, you are a long-term tenant. Let us explain. There are four forms of property In England, with two being the most frequently used – freehold and leasehold. The first means that you are buying the building and the land where it stands, and thus you are free to do whatever you like, and the second means that you purchase an object but the land is just leased from the owner and you definitely regularly pay for it.
--------------------
"Buying apartment in England is not more than a long-term rent"
--------------------
Rental remaining period is extremely important. Today developers sell apartments, retaining the land, with the lease period of 999 years or more often with only 125 years. Then, if these terms are not cancelled, apartment may be simply withdrawn. Generally, the cancellation takes place, but it costs a lot of money. Therefore, when buying an apartment is not superfluous to ask so how long time is "left to live in." The closer is the X time, the cheaper is real estate, but such a low price can turn into a big waste when renewing the lease.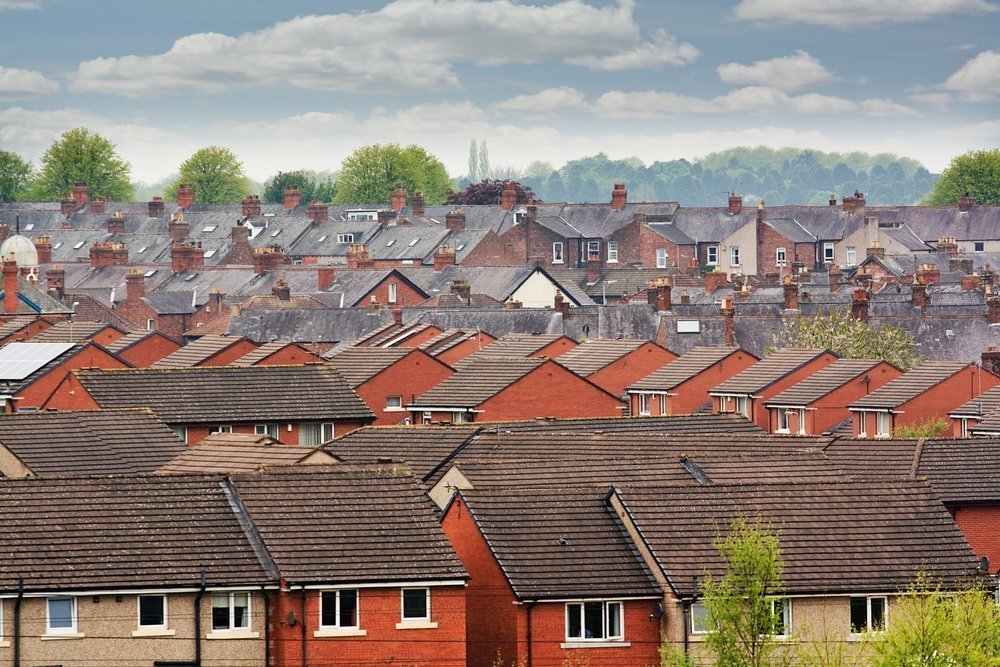 A shared freehold is another form, named so completely by mistake. In fact, it's free leasehold: you buy the land together with other owners and lease it for yourself free of charge for 999 years. The last innovation of this century is the commonhold – it is a kind of housing cooperative, when community of residents actually owns the land in perpetuity. But there are just a few dozens of houses that may be rented by this form, as it is absolutely non-profitable for developers.
Text: Alexander Fetyukov, ee24.com