Elegant villa in Mallorca, owned by the Swarovski family is on sale for €12 million, according to the portal ee24.com with reference to the European media .
For Helmut Swarovski and his wife Danna northern Mallorca with its breathtaking rural landscape and amazing architecture for many years served as a refuge from the noisy social events and presentations.
Helmut is the great grandson of the famous Daniel Swarovski, who in 1895 invented the tools to work with gems and founded the company that now is the leading supplier of faceted crystals.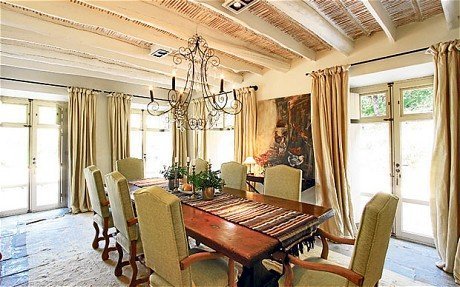 In 2000 Helmut bought a villa Can Botana, located in the rural areas in the Gulf of Cala San Vincente. The villa was built by the Moors 400 years ago and for many generations served as home to local farmers. Swarovski was so excited with feeling of surprising tranquility and romance, which gave him a local nature, that he bought the villa and presented it to his wife Dann as a surprise .
Swarovski began to restore the building and in two years has transformed the primitive interior of the villa into a comfortable, elegant environment. The vaulted ceilings of a warm pink brick and stone walls in the traditional style - everything here breathes antiquity, but at the same time is fraught with style. Little old windows and stone portals in the walls of the kitchen reminiscent of the ancient history of the building.
Today, the 4 bedroom villa Can Botana a few minutes from the beach and Port de Pollença is a symbol of rural tranquility and comfort. Villa is surrounded by an orchard and a vegetable garden.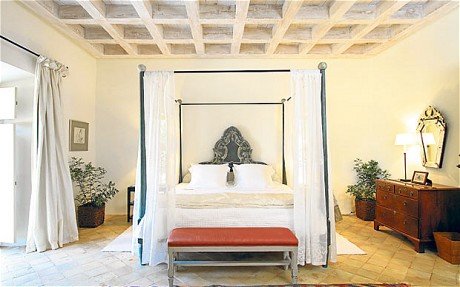 Experts say that in this area, you can find properties ranging from €1 million, but we must be prepared to ensure that the building will have to patch up. Swarovski Villa Can Botana worth €12 million (£10.3 million).
The couple met at the villa with Swarovski many wonderful days and nights, walking around the neighborhood, swimming in the sea and playing with children. But as time passed, the children grew up, and Dan, and Helmut decided to put the house up for sale.
Photo : OM-images.com