The price index for luxury properties in the world grew by only 0.2% in Q3 2014 – the weakest performance in the last two years, according to Prime Global Cities Index in 33 major world cities by Knight Frank. The index rose by 4% YOY; for comparison, the figure in 2013 was 6.6%, informs the ee24.com.
In Europe, the largest price increase YOY was recorded in Dublin (12.7%), London (7.4%), Madrid (6.4%), Monaco (5%), Rome (1.5%) and Vienna (0.7%). Overall growth rate in European cities was 1% per year (for comparison, in North America 10.5%). Luxury housing in Europe were most increased in price QOQ in Monaco (3.6%) and Madrid (2%).
Negative trends in Europe were observed in Paris (-2.5% y-o-y), Zurich (-2.7%), Moscow (-3.7%), Geneva (-5.6%) and St. Petersburg (-8.7%). For comparison, the worst performance was only in the Asian metropolis of Singapore (-10%).
Slower growth in prices of prime properties in the world explains the summer holiday season (transactions may be delayed), the approach of the general election in the UK (Mansion Tax is discussed), the prospect of tighter monetary policy of the USA, cooling measures in major Asian cities and the new negative economic indicators in Europe.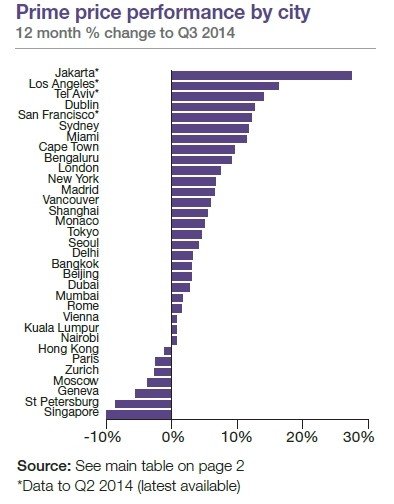 Source: knightfrank.com