Volume of investments in European commercial real estate is expected to increase to €175-180 billion in 2015, and so extend the trend of 2014, when the transactions total cost amounted to €160 billion, which was by 10% higher than a year earlier. All the main areas remain in trend, but special interest will be focused on hotels, health care facilities and housing for students, says the report published by Knight Frank, citing propertywire.com.
Investors have some doubts about the economic recovery strength in Europe, but in general, according to experts, the EU and the euro zone are ready for long-term growth in 2015. In particular, among rapidly recovering commercial real estate markets are called Madrid and Dublin, where rental rates are increasing. Also, investors are encouraged by the Baltic countries, Ireland and part of the Southern Europe.
Major cities of Germany and France still luring investors, despite the recent decline in economic performance. Rental rates in regional big cities of the UK, but not just in London, started to rise.
In Eastern Europe, the conflict between Russia and Ukraine has not affected the market, as an abundance of proposals restrains the growth of rental rates in key regional cities, such as Prague and Warsaw.
Savills International in its turn notes that from an investment point of view, in addition to offices, retail and industrial sectors, in 2015 it is necessary to pay attention on European hotels, student and residential real estate. Investors' attention may shift from supersaturated and stable trading markets of the UK, Belgium, Holland, France and Germany on different market segments in Ireland, Italy, Spain and Poland (logistics, shopping areas, etc.).
Besides all that, increase of demand for hotels is expected in London and Paris. For example, in 2014 the volume of investments in the hospitality industry in the UK capital reached the highest figures since 2006 – £6.1 billion (about €8.17 billion).
The most expensive shopping streets in Europe in 2014-2015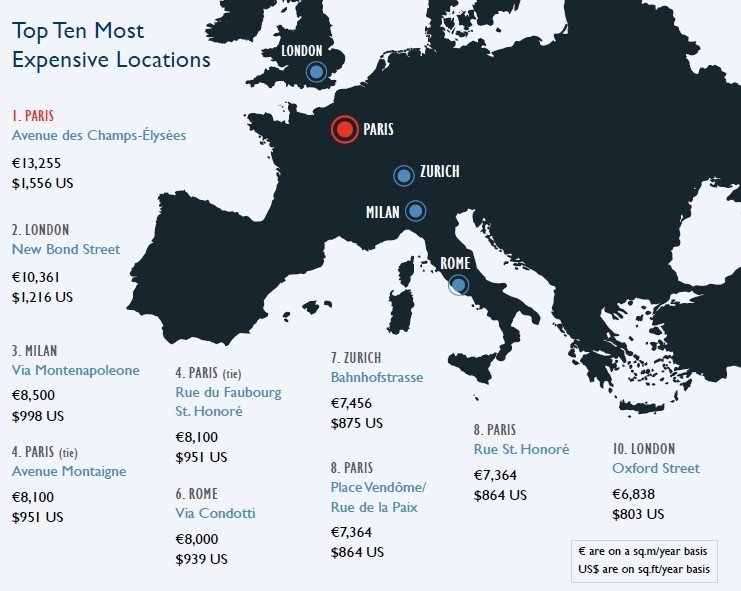 Read also:
The best cities in Europe for real estate investments – 2015
Top 10 most expensive shopping European streets