47 senior Russian officials, parliamentarians and members of the State Duma of the Russian Federation have specified in the declaration their overseas property. At the same time for a year only four officials sold their foreign assets, and the same number have acquired.
Ministers without new purchases
According to the declaration published in April 2015, property abroad owners are 25 State Duma deputies, 16 senators, 5 ministers and 1 official from the Moscow government (Vice Mayor Maxim Liksutov and his wife own a huge house and a plot in Italy). In the administration of President Vladimir Putin, now there is no holder of foreign assets, whereas previously it was the Ombudsman for entrepreneurs Boris Titov (this unit is the public agency now, and Titov became its director).
Igor Shuvalov and Mikhail Abyzov are still renting property in Austria, the UK and Italy
The government has five officials with foreign ownership, which is mainly owned by a couple with their spouses: the vice-premiers Olga Golodets (a 220 sq.m villa in Switzerland, an apartment of 250 sq.m in Italy) and Alexander Khloponin (a spacious house and a plot in Italy), the Minister for the North Caucasus Lev Kuznetsov (three garages, two houses and an apartment in France), the Minister of Education and Science Dmitry Livanov (a house in Spain), the Minister of Labour and Social Protection Maxim Topilin (a garage of 19 sq.m and an apartment of 115 sq.m in Bulgaria).
The Deputy Prime Minister Igor Shuvalov and his wife Olga are still renting a house in Austria (1,480 sq.m) and a flat in the UK (483 sq.m). The family of minister without portfolio Mikhail Abyzov owns an apartment and a garage in the UK (341 sq.m and 42 sq.m) and a room in a country house in Italy (180 sq.m).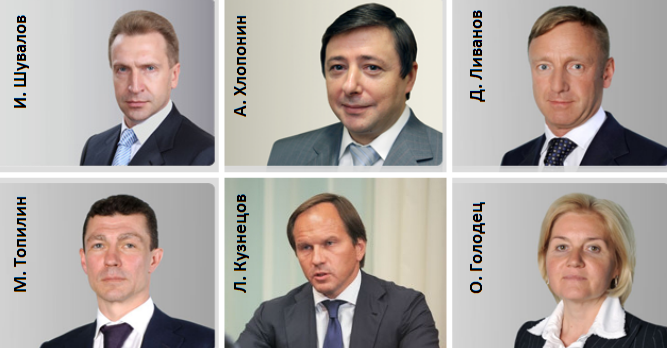 Senators like Italy
Russian senators still like Italy. The owners of houses in the Apennine peninsula are three members of the Federation Council (Oleg Eremeev, Ahmet Palankoev and Alexander Verkhovsky with their spouses). Other members of the upper chamber have a property in France, Bulgaria, Montenegro, Estonia and others. The former athlete and Olympic champion Tatyana Lebedeva owns property in Estonia and Portugal. The legendary hockey defender Vyacheslav Fetisov has a house in the United States since his NHL career. The senator from Karelia Vladimir Fedorov and his wife bought a 6 hectares land in Greece, and the upper chamber rookie Evgeny Alekseev became the owner of an apartment in Bulgaria.
Vladislav Tretiak owns a property in Latvia, and Nikolai Valuev – in Spain and Germany
Geopolitical complications in 2014 affected the choice of only four Russian officials. Billionaire Mikhail Slipenchuk sold one of their homes in the Democratic Republic of Congo. Bulgaria lost two Russian officials: Senator from Mordovia Vladimir Lityushkin got rid of an apartment of 59 sq.m, and the wife of Senator from North Ossetia Alexander Totoonov – of an apartment with area of ​​77 sq.m. In addition, as reported by daily.rbc.ru, the former boxer Nikolai Valuev and his wife sold their property in Spain (house of 95 sq.m) and in Germany (two apartments of 77 sq.m), but these properties are still listed in the declaration of 2014.
Text: Cyril Ozerov, ee24.ru
On the title photo: top row (left to right): Igor Shuvalov, Vyacheslav Fetisov, Vladislav Tretiak; bottom row: Nikolay Valuev, Dmitry Gudkov Jr., Tatyana Lebedeva.