To buy real estate in Europe and to start a new life... A dream may be damaged if you know the large European cities not only with a charm, but also with long traffic jams. Where are the longest congestions? How much time is wasted in the car? Read more on ee24.com.
The longest traffic jams in the world occur in the megacities with population over 800,000 as Istanbul (+58% additional time to overcome a way of the quiet period), Mexico (55%) and Rio de Janeiro (51%), according to Traffic Index 2014-2015 by the producing navigators company TomTom, published on businesswire.com. The Index is based on data to 218 cities in 36 countries over the year of 2014.
Drivers are in a hurry for evening meal, but are stuck in traffic in Istanbul, Łódź, Moscow and Saint Petersburg
The evening rush hour is the most congested time of day. The hardest traffic jams at this time occur in Istanbul (109%), Łódź (102%) and in two Russian megacities, Moscow (103%) and Saint Petersburg (96%). Furthermore, drivers are in a hurry for evening meal, but are stuck in traffic in Bucharest and Belfast (both – 82%), Dublin (80%), Warsaw (75%), Manchester and Basel (72%). In last year survey the Russian capital was ranked first.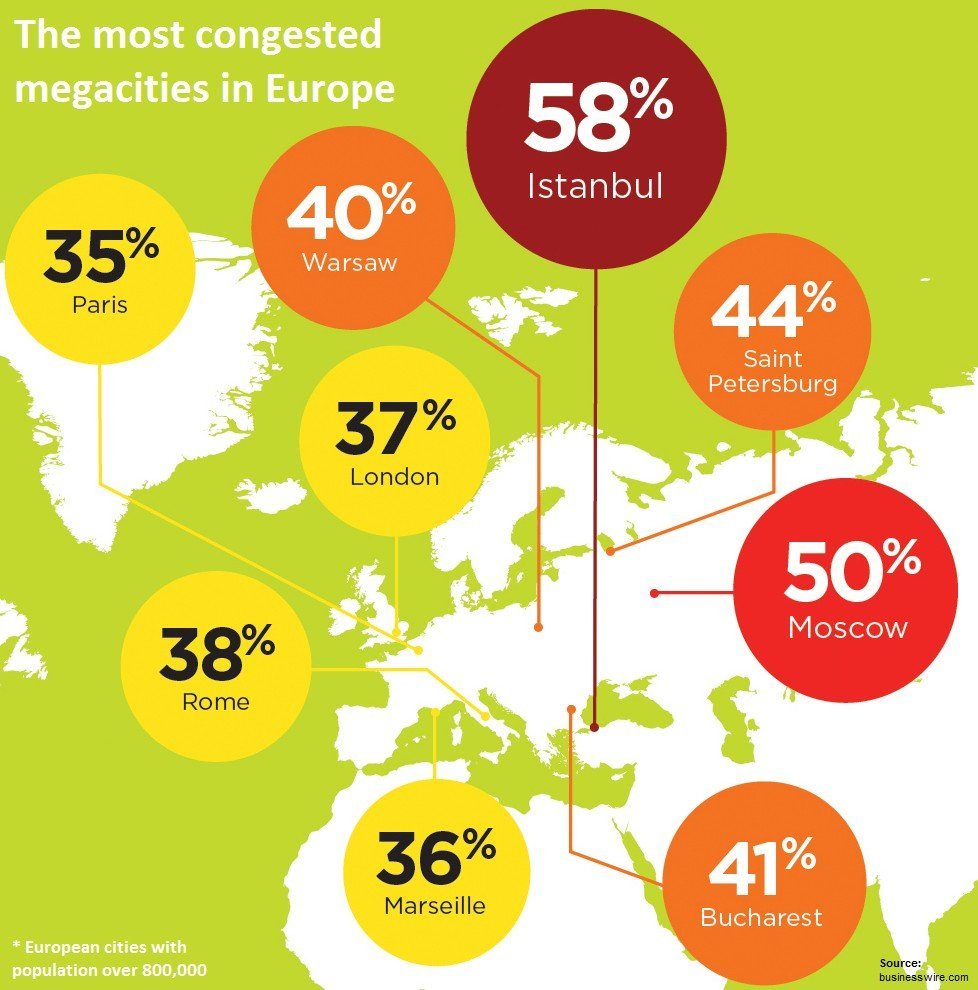 According to TomTom Traffic Index, the morning rush hour is the longest to drivers in Belfast (82%), Dublin (81%), Bucharest (78%), Moscow (77%), Łódź (74%) and Rome (71%).
As an example, the average 30 minute route in Istanbul will be doubled (over an hour!) during evening rush hour, leading an extra 125 hours a year. For comparison, in Moscow, Saint Petersburg and Bucharest, an average car passenger spends an extra 118, 110 and 94 hours a year respectively, travelling during the evening rush hour.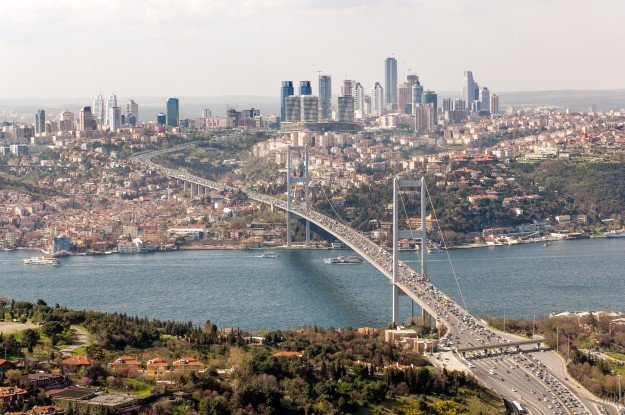 High congestion in big city! The Bosphorus Bridge in Istanbul, view of the business district
The highest overall levels of congestion in the cities with population less 800,000 occur in Łódź (56%), Palermo (42%), Belfast (39%), Dublin (38%) and others. It's noteworthy that a 30 minute route is taken into account, so a traffic jam in these cities adds an average 10-15 minutes to the way.
The most congested cities in Europe
| | |
| --- | --- |
| Istanbul, Turkey | 58% |
| Łódź, Poland | 56% |
| Moscow, Russia | 50% |
| Saint Petersburg, Russia | 44% |
| Palermo, Italy | 42% |
| Bucharest, Romania | 41% |
| Warsaw, Poland | 40% |
| Belfast, UK | 39% |
| Rome, Italy | 38% |
| Dublin, Ireland | 38% |
| London, UK | 37% |
| Marseille, France | 36% |
| Edinburgh, UK | 36% |
| Geneva, Switzerland | 36% |
| Paris, France | 35% |
| Athens, Greece | 34% |
| Kraków, Poland | 34% |
Text: Kirill Ozerov, ee24.com