All admirers of famous musicians, actors and other artists are eager to find out where their idols live. ee24.com decided to find out which of the foreign stars of stage, film and television lives in Europe, and immediately share this information with our readers. And for good reason, because among Western celebrities there are many fans of European real estate.​
Madonna
The famous pop diva Madonna collects London real estate. During the years of her marriage with British director Guy Ritchie the singer purchased six homes in the UK capital. The last purchase was a luxury home in the prestigious London's Notting Hill worth £10 million (€11.9 million).
At one time the star couple had a country estate - a mansion in Wiltshire. House area of 2 hectares with 8 bedrooms and 2 gyms was bought in 2001 for €11 million, but in 2008 it was decided to sell the house for €15 million, as both Madonna and Ritchie almost never appeared there, preferring to stay in London.
Madonna also owns two-story penthouse in the heart of the Italian Verona in Piazza delle Erbe, with six rooms, and price of €12 million
Guy Ritchie
Madonna's ex-husband, a famous film director Guy Ritchie owes a mansion in London which costs £6 million (€7.1 million). The general public became aware of that after media reports about squatters who have settled in this building. About a dozen young nonconformists entered the house of the director and opened the "School of Tarot, squatting and free life in the modern metropolis" there.
As a result, with the help of the police the intruders where kicked out, and the director went back to just renovated mansion with his new girlfriend - model Jacqui Ainsley.
Stephen Fry
In his autobiography, "Moab is my washpot", well-known English scholar and actor Stephen Fry has admitted that for years kept in his wallet an old photo of the house in which he grew up. This is Booton House, which is 11 miles from Norwich.
"I would not carry with me a photo for all these years, if the house in which I spent my childhood, did not mean anything to me. And I'm barely holding back the tears when I look at this picture," - said Stephen Fry.
And now Booton House is on the market for £995,000 (€1.2 million). It is worth to mention that over the last decade house has undergone significant changes compared to the times when Stephen Fry lived here. Plumbing and central heating were installed, as well as a small observatory.
Lars von Trier
Scandalous director is terminally ill with aerophobia. So, for example, he has never been in the U.S., and his favorite mean of transportation was a mobile home Dethleffs Advantage 1992. Many times it taxied the director in Cannes for the premiere of his movies, but now we see the end of an era.
The director put his motorhome for sale at eBay. In the summary to the lot it is said that this is a unique opportunity to acquire an integral part of the history of world cinema, a car which has always been reserved for VIP-parking at Cannes, the house in which the meetings of many great people occured. The only problem is that the house wildly smells diesel. Lars himself said the he decided to sell the motorhome because he just got tired of breathing diesel.
Motorhome with mileage over 75,000 miles can be purchased for $150,000 (€111,000).
Sting
The famous singer Sting owns many homes around the world - from Italy to the United States. Within an hour's drive from London in the middle of bucolic landscapes and rural farmland on the banks of the River Avon the castle Lake House is situated. It was built in 1578. Sting spends most of his free time, spare from tours and recordongs, in one of 40 spacious rooms of his personal castle.
The singer also has a house in London, built in the XVIII century. When Sting decided to repair the house, he met unexpectedly stiff resistance of the authorities. It turned out that the house belongs personally to the Queen of England Elizabeth II.
During the holidays Sting goes on Palagio his Italian villa in Tuscany, near Florence. The villa, built in the XVI century as a hunting lodge, which once stayed dukes of San Clemente, surrounded by gardens, vineyards and rolling hills.
Orlando Bloom
British actor Orlando Bloom, played the role of forest elf Legolas in the trilogy "The Lord of the Rings," was so inspired by ideas of "clean living" that built the perfect green home. As the location of his new home the actor chose London. Orlando tried really hard: all the energy in the home is produced by solar panels and energy-saving light bulbs are installed in every room. Actor is seriously wants to bring the green house to perfection and is going to rebuild it again and again.
Jude Law
Jude Law, the famous British actor who played Alexei Karenin in the recent film adaptation of Leo Tolstoy's novel "Anna Karenina" is selling his London mansion, located next door to the houses of Kate Moss, George Michael and Sting. The house, built in the Georgian style, with three bedrooms, a large yard, a red living room, dining room, garden and garage, currently is estimated at $6.8 million (€5 million).
Tina Turner
The famous singer Tina Turner moved to London in 1986, then she has consistently lived in Cologne, Germany, and Switzerland. In 2000, the singer has finished the construction of her own villa on the French Riviera, near Nice. Now Tina Turner lives in three houses in Switzerland, England and France.
Erika Leonard
Erika Leonard, known to readers as E.L. James, became popular after the release of the erotic novel "Fifty shades of gray." Fee for this fabulous bestseller helped the writer to move into the mansion in west London, built in 1930. $4.17 million (€3.1 million), does not seem to be a large sum for the house, in which Erika Leonard wanted to move in for the last 15 years.
Gerard Depardieu
Since Gerard Depardieu had quarreled with the French tax authorities and adopted Russian citizenship, the famous actor was busy selling out his property left in what was once was his homeland. In particular, for sale is a villa in Paris, a monument of architecture of the XIX century. Even before Depardieu occurred here, the building served as a hotel Hotel de Chambon. The actor has turned it into a house with 20 rooms, 10 bedrooms, an elevator, balcony, two terraces and a swimming pool. The new owner will have to pay €50 million for this villa.
Mick Jagger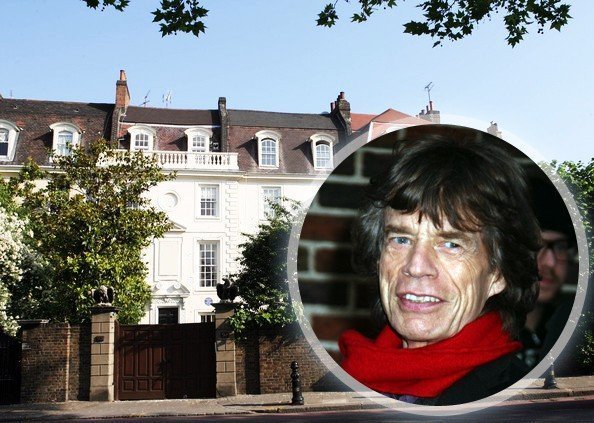 The legendary musician Mick Jagger refuses to hand over all rights to the mansion Downe House in Richmond, south-west London, to his ex-wife, actress Jerry Hall. Luxury home on Thames with 26 rooms, the cost of which is estimated at €11.6 million, officially belongs to the singer. But the court in 1999 ruled that after the divorce the house should go into the property of Jerry Hall, with whom Jagger lived for 20 years.
Rolling Stones singer now lives in a luxurious mansion in London's Chelsea neighborhood. Musician bought this house on the banks of Thames in 2006 for £10 million (€11.6 million). The mansion has a rich history: Sir Mick Jagger is not the only knight who lived here. At the turn of the XVIII and XIX centuries, Sir Mark Izambard Brunel, famous for having built a tunnel under the Thames, also lived here.
Steve Harris
The founder of the British heavy metal band Iron Maiden, Steve Harris is selling his mansion. Real Estate, part of which was established in 1427, is located in Sheering, near Harlow. To get a feel for how to live like a rock star, you will need to pay £6.75 million (€7.84 million).
The mansion of the founder of Iron Maiden is located on nine acres of land and consists of seven bedrooms, wooden rooms, music studios, arcade games room, tennis court, a full-size soccer field and, most interestingly, a pub. Also on the site there is a pond with carps, and an indoor pool.
George Clooney
A talented actor George Clooney owns an Italian villa called Villa Oleander. The house is located in the small town of Laglio on Lake Como. According to rumors, there is a theater, a large swimming pool and a garage. Brad Pitt and Angelina Jolie often were here, a fashion designer Donatella Versace and a singer Avril Lavigne also live nearby. Catherine Zeta-Jones and Michael Douglas are also visiting George rather often.
By the way, you can try to find a villa in the movie "Ocean's Twelve" by Steven Soderbergh (2004), which starred Clooney, and the shooting took place on Lake Como.
Generally speaking, guests at Clooney's are often and usually come in large quantities, so in 2004 he bought another villa called Margarita, which was used as a guest house.
In recent years, it is heard that Clooney is going to change his place of residence. For him, it's a tough decision, because the grateful residents of Laglio even made him an honorary citizen of the city. However, the actor said that he and his bride Elisabetta Canalis are tired of the excessive attention of the paparazzi.
David Beckham, Tom Cruise and Katie Holmes are interested in the villa Oleandra. But English footballer abandoned this idea, and a stellar couple bought a villa Mammolo in Tuscany. And soon Cruise and Holmes divorced, so the villa often stays empty, and Tom spends time with his daughter in his bungalow in Hawaii.
lady Gaga
In late 2010, the famous freak-singer Lady Gaga has bought a palace Yester House in the suburbs of Edinburgh. This is one of the most expensive houses in Scotland, built in the period from 1699 to 1728. Earlier this palace belonged to an Italian composer Giancarlo Menotti (1911-2007). Lady Gaga has paid for a mansion with over 60 rooms about $13 million (€15 million).
Johnny Depp
The famous actor Johnny Depp during his participation in the filming of "The Tourist" fell in love with Venice. And so he decided to buy a home in this wonderful Italian city. In the end the choice fell on the actor's charming palazzo of Don Sanyantoffetti value of €10 million. The facade of the house overlooks the Grand Canal, and there is parking for actor's private yacht nearby.
Robbie Williams
Singer Robbie Williams put up for sale his English mansion in Wiltshire. Popular British singer asked for £5.5 million (€6.45 million), while in 2008 he bought the mansion for £8.1 million. Williams decided to sell the mansion on "low" price, because in 2010 he could not get rid of it for £7.5 million.
With an area of 1,850 sq.m., mansion, built in the XVIII century, is located on a plot of 29 hectares in the village of Compton Bassett, in 136 km to the west of London and 40 km north of Stonehenge. In an old 3-story house there are 9 bedrooms, 13 bathrooms, a large dining room, a nursery, 22-meter swimming pool, a library, fitness room, spa, a Russian bath, sauna, wine cellar, etc.
Bonus level
Villa La Pausa, located in the medieval village of Roquebrune -Cap- Martin, close to the border with France, Italy and Monaco, once belonged to the legend of the world of fashion Coco Gabrielle Bonheur Chanel. Now it is being sold for €40 million. The house was built by an architect Robert Shtraytsem especially for Coco. The building consists of four floors, includes seven bedrooms, four reception rooms, a library, a dining room and a cozy fireplace lounge. This villa was visited by Igor Stravinsky, Pablo Picasso, Salvador Dali and other legendary people.
Agatha Christie wrote some of her classic works in her "horse" house in London's Chelsea. Originally it housed the stall, but the writer bought the building in the late 1920s, rebuilt it and stay here to live for the rest of her days. There are hardwood floors, four bedrooms and a plaque in honor of the writer. The cost of the house is £2.6 млн (€3,000,000).
Some scenes of the Oscar-winning film "Women in Love" were shot in the house of actor Oliver Reed, in Dorking. The mansion has nine bedrooms, three bathrooms, two reception rooms and a library. The house is worth £1.65 million (€1.9 million).
English actor Sir Roger Moore lived in Sherwood House in Uxbridge in 1970, when he played James Bond in "Live and Let Die", "The Man with the Golden Gun" and "The Spy Who Loved Me." The house, located in the west London Borough of Hillingdon, has five bedrooms, a gym, a wine cellar and a swimming pool. To live like James Bond you'll need to pay £4.5 million (€5.2 million).
Text: Ivan Ulitin, ee24.com
Photo: forbes.ru, telegraph.co.uk, etc.