Citizens of the former Soviet Union literally buy all the Czech market: almost any property that is suitable for life or business. In such a way you can't earn a lot but you can save money from depreciation. Given the instability in post-soviet countries there is no great choice.
Russian world in the Czech Republic
Authorities of Czech Airlines decided to lay off a third of its employees because of the reduction in passenger traffic from Russia. But in contrast to tourist business there are enough Russian speaking people in real estate market in the Czech Republic. So that one day Karlovy Vary government woke up and found that the whole town has advertisements and signs in Russian. After that they added a requirement in the National Parliament to dub all foreign signs in public places into Czech.
It is believed that 35,000 Russians live in the Czech Republic, and the number of their properties is estimated from 6,500 (ee24.com) up to 11,500 (indriksons.ru). If you add people from other countries of the former USSR, you will get even a more impressive number. People often property in the Czech Republic for obtaining a residence permit (it is issued if you run your business) and getting permanent residence in future, or for a periodic living and (or) treatment in waters on the basis of the Schengen visa that allows visitors to stay up to 90 days each half a year. Business ties with the Czech Republic or studies at universities in this country may also tip the scales in favor of buying a property.
--------------------
"Every year the Russians buy up to 1,000 houses and apartments in the Czech Republic"
--------------------
In recent years the government of the Czech Republic simplified significantly the procedure of buying property, and in particular they allowed foreigners to register it as individuals. Innovations affected thousands of people. Annually only citizens of Russia buy up to 1,000 houses and apartments in the Czech Republic. Up to 90% transactions take place in Prague (including suburbs) and Karlovy Vary, the rest of transactions are made in the second largest city of Brno and spa resorts of Teplice and Mariánské Lázně.
Last five years interest in the Czech Republic was influenced by price level, which decreased as in other European countries after the crisis. By 2012 secondary market apartments prices decreased by 30-40%, the market reached the bottom, and in 2013 it entered the phase of growth – though tiny, only some fractions of a percent. In particular it applies to residential real estate, the price of which increased by 0.7% in the second quarter of 2013 till the second quarter of 2014 (Eurostat).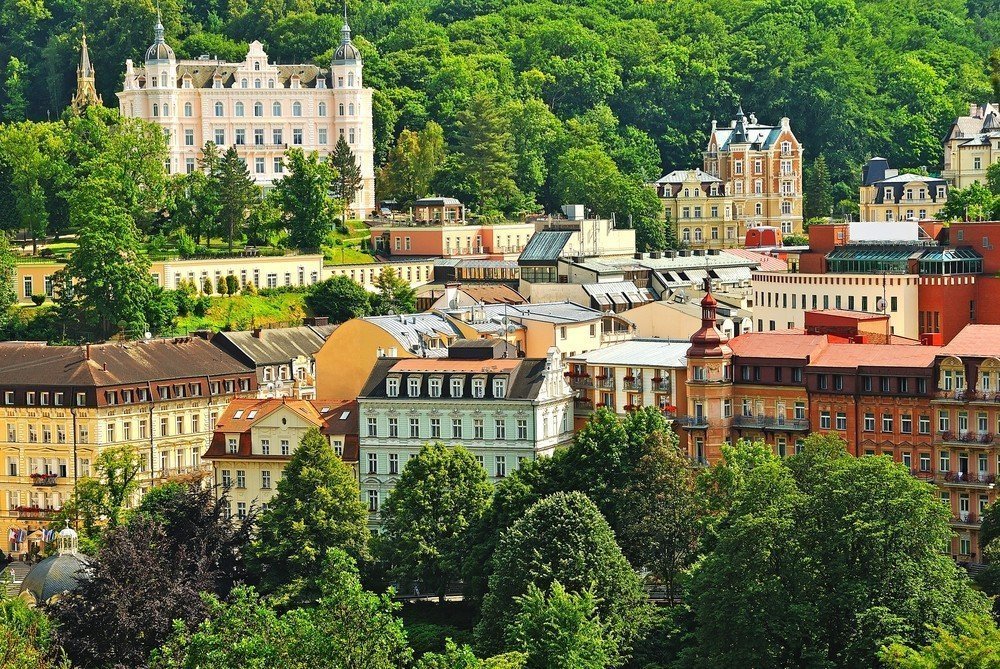 Karlovy Vary is the favourite Russian place
Residential real estate: where to find the Russians in Prague
In the secondary market in Prague apartments rarely cost more than €2,000-2,500 per square meter On the contrary, in this segment you can save money if you choose a remote district and agree to a panel house or ground floor. For example, there is such offer in Prague-9: a 49 sq.m apartment, a stone's throw from a subway station for €80,600.
--------------------
"Every fifth new apartment in the center of Prague belongs to immigrants from the former USSR"
--------------------
But the Russians prefer new apartments in Prague: they are inexpensive, comfortable and energy efficient. Indeed, why would you use central heating as before if you can turn off radiators when you need to and when you are at home?! Not by chance, every fifth new apartment in the heart of the capital goes to immigrants from the former Soviet Union, and citizens of Slovakia bypass the number of purchases made by the Russians. Average price of apartments in the primary market of the Czech Republic is known for certain, because the data is provided by the largest developer Trigema: in the third quarter of 2014 a square meter in Prague cost 61,593 CZK (€2,240), in Brno – 50,000 CZK (€1,818).
The Russians prefer to settle in Prague 1, 2 and 3, about a half of the Russian-speaking residents of the capital live there. There are a lot of them in Prague 5, due to great number of cooperative houses in the area (as we mentioned above, foreigners had to register the ownership as a legal entity, but there was also another way – to join a cooperative). Part of the Russian residents takes a mortgage, for example, in Sberbank's branch office in the Czech Republic – Sberbank CZ, with rate of 7%.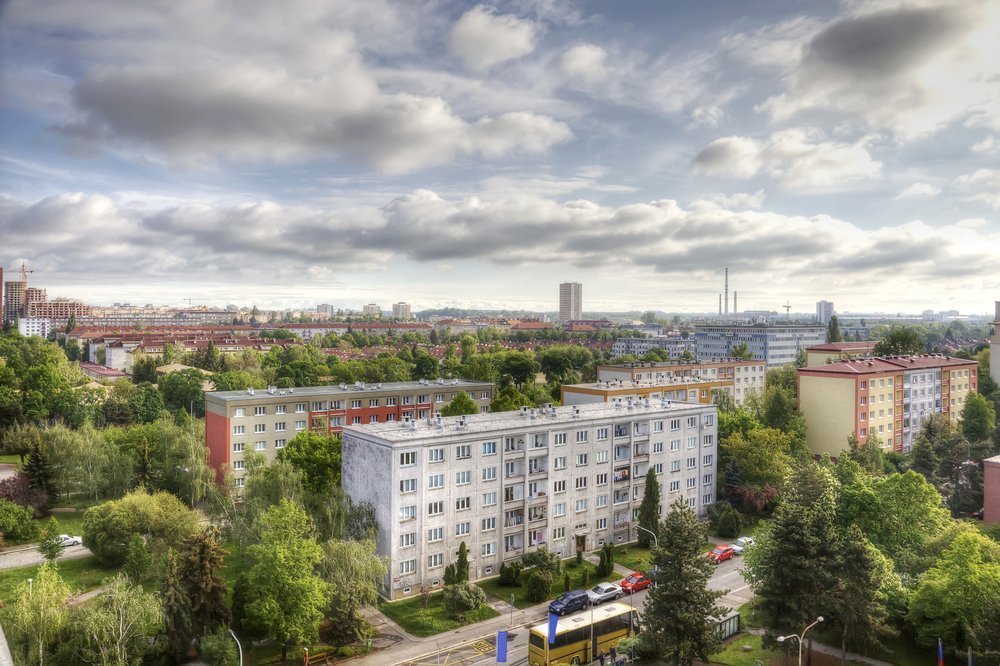 Different Prague. Prefabricated houses in a residential area
Commercial real estate in the Czech Republic: the Russians are tall in the saddle
Moving to a new country, you have to earn your living. Earning on commercial real estate in the Czech Republic is possible, but it is difficult, and the Russians are aware of it. While ruble depreciates, and euro updates the records, the preservation of funds becomes self-sufficient, you don't multiply, but at least you do not lose anything. Besides, running business is one of the surest ways to obtain a residence permit in the Czech Republic. High-scale businessmen, who previously only glanced toward Prague, are actively acquiring now. Over the past year, investment in commercial properties of the Czech Republic increased significantly, and CBRE predicts that by late December the total amount of transactions can reach €2-2.5 billion – it will be the best indicator of the decade.
--------------------
"High-scale businessmen, who previously only glanced toward Prague, are actively acquiring now"
--------------------
There are much more Russian citizens in the market, and this "invasion" was even mentioned in the local press. For example, it was widely reported as one of investors purchased the building of Palác Rapid near famous Wenceslas Square, having paid €46,5 mln. Among the largest purchases made by the Russians there is Augustine hotel in the historic Prague's district of Mala Strana, which was bought by "Gleden Invest" company. The price of the transaction was not disclosed, but it is known that only reconstruction of the building, which ended in 2009, cost 1.7 billion CZK (€61.4 million) to the previous owner. In June, the Russians bought in Prague another five-star Savoy hotel: an Austrian owner Warimpex decided to leave the Czech luxury market and therefore he did not even negotiate.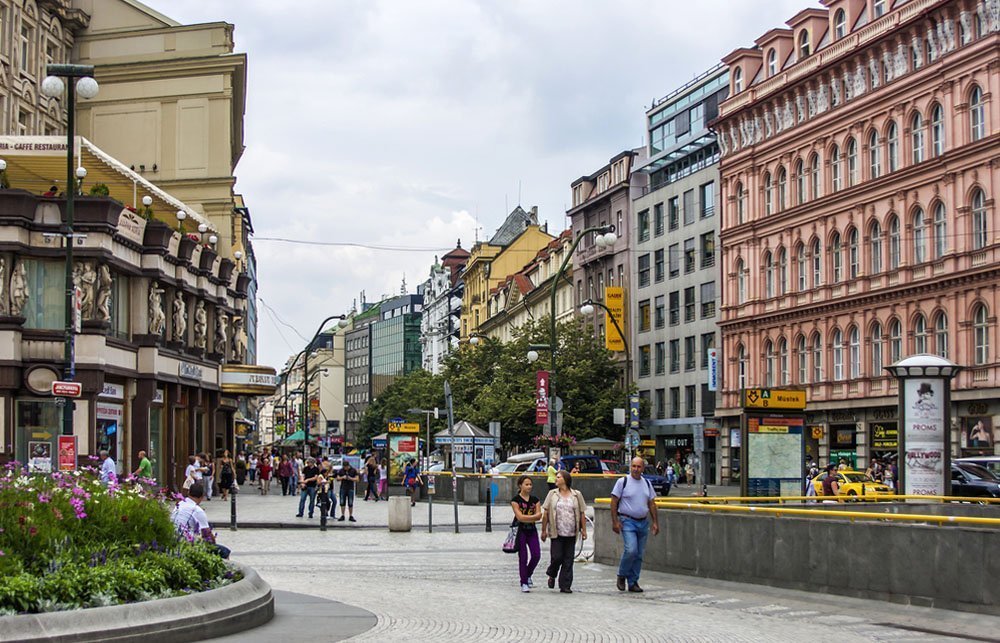 Prague
Realtors, like the press, could not help noticing the increased interest in commercial real estate, and agents know the reason for such a rush. Alexey Arshevsky, Director of TOP Business International Club s.r.o., claims that one can "blame" good economic situation in the Czech Republic which contrasts sharply with realities in Russia.
"During the last six months there is a sharp increase in purchases of commercial real estate in Prague and the Czech Republic as a whole. People mainly buy buildings, which are located in the center of Prague, such as the hotels with stars or shopping malls. For many years, these properties were impossible to sell, but now the situation has changed. Land plots that have construction permit also sell well. This growth of consumer interest is most likely associated with a stable economic situation in the Czech Republic and with attractive prices for commercial properties in the center of Prague. "
--------------------
"Hotels and shopping malls in the center of Prague are the best investment"
--------------------
Pavel Malyshev, director of Preco Group s.r.o., agrees with Alexey that purchase of a hotel is a good investment for the Russians: "Last two years are very significant in terms of commercial properties resale. The interest of investors with Russian roots in commercial real estate, in hotels in particular, really exists, but not only they had a surge of interest. It is due to the fact that in the Czech Republic there are a lot of tourists from the CIS countries, so to have a hotel that you can't fill yourself is profitable. And as 2014 was the worst in terms of loading hotel facilities, vendors made advances toward investors and reduced prices."
Who are the sellers? They are foreigners who leave the market and give way to people from Eastern Europe, as in the case with Warimpex. Pavel Malyshev comments: "The segment of high category hotels (4 and 5 stars) was never popular in Prague, European tourists prefer budget hotels and hostels. Therefore, owners of "elite" properties, most of them are Austrians, Italians and Irish, seeing the economy of a hotel and its prospects, are forced to get rid of non-core assets. In addition, these two years the economy of both Italy and Austria is not in the best condition, and it forces owners to sell part of the property to maintain their main business. So investors from outside benefit from it, and many of them are Russian players."
Text: Kirill Ozerov, ee24.com
Read also:
Czech hotelier who moved out the Russians due to the annexation of the Crimea was fined maximum
Old faithful Czech Republic: housing goes up, but prices are affordable
Going to the SPA resort! Healthy property in Mariánské Lázně