Construction of three major projects in Bulgaria will start in the spring of 2015. Foreign investments estimated at 2.9 billion leva will benefit the Bulgarian economy, ee24.com informs citing newsbg.ru.
All projects have long been known. A ski resort of "Destination Rila" between Sapareva Banya and Govedartsi, near the famous Rila Monastery was announced in late 2013. The French and Bulgarian companies plan to invest about 1.2 billion leva (about €610 million, at the exchange rate on 02.20.2015).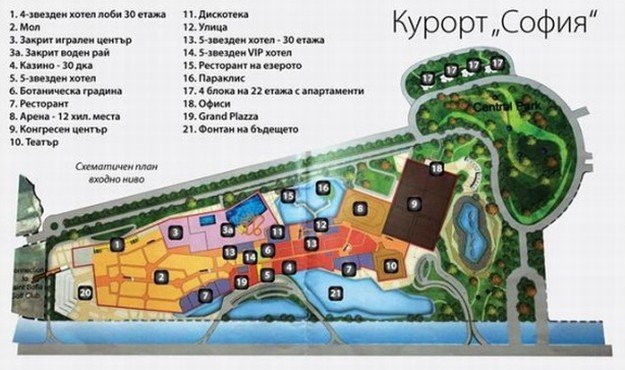 Project of Sofia' satellite city by investors from Hong Kong and Singapore
The second project, a satellite city of Sofia with a closed sea, will be built by the investment fund from Hong Kong and Singapore, near Musachevo and Elin Pelin, east of the Bulgarian capital and the airport. The entertainment center in the style of Las Vegas is estimated at 1.6 billion leva (€820 million). It became known in early 2014.
Another project is related to Russian investors. A fund of "Law, justice and mercy" that protects the judiciary and their family members in Russia is the creator of a rehabilitation center of "Preobrazhenie" ("Transfiguration") in Sapareva Banya. The project launched in 2013 costs 75 million leva (€38.4 million), although formerly half the amount was announced. Construction frozen in March 2014 will be continued in 2015, said the mayor of Sapareva Banya Sasho Ivanov.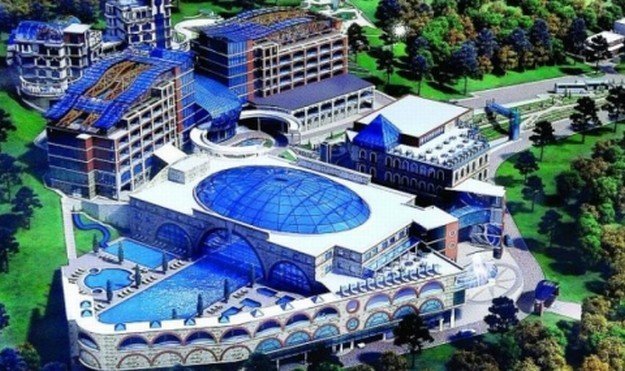 Russian investors' project of sanatorium in Sapareva Banya
Sapareva Banya with a population of 3,800 people is a thermal town in Kyustendil Province (South-Western Bulgaria), 60 km from Kyustendil and 90 km from Sofia, 15 km east from Dupnitsa. Sapareva Banya commune as well as the city is known for the hottest in Europe source of mineral water (103 °C).
Read also:
Active building: everything about new projects in Montenegro
Ambitious construction in Berlin: the projects are carried out